A long while back, we took out the six orange trees that were planted here way before we bought the house, probably eons ago by the original owners.
They looked great, but in terms of maintenance – they were impossible.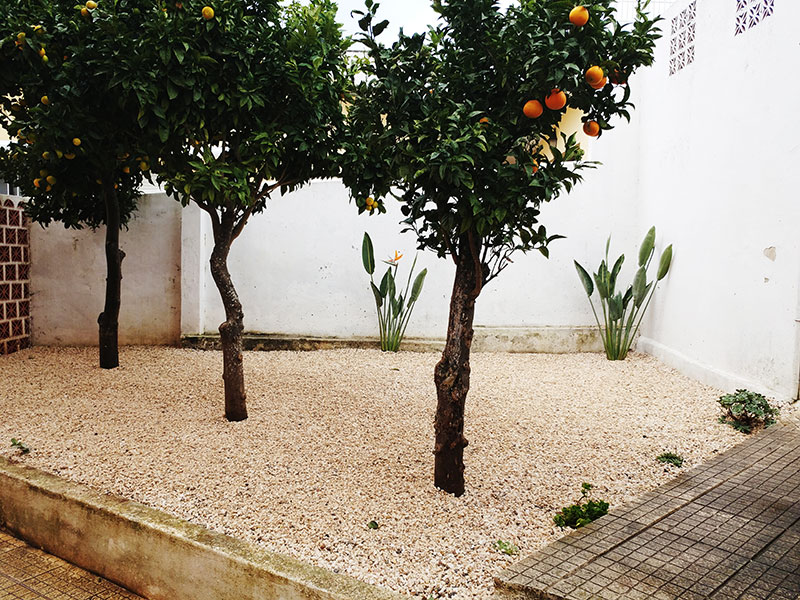 They were massive, turned into aphid and mealybug farms because of just how dense they grew, leading to the other plants (my poor succulents!) being slathered in pests that bred near to, but not on the tree.
The ants came to farm the mealybug and aphids because yum for them, vectoring them further around our garden and causing more and more risk that the ants would bring a queen into our house whenever the season was right (for them, wrong for us) as there were so many colonies nearby, this was a definite chance (ants indoors happened at least 3 times).
And none of that was the worst part. The rotting, massive oranges that would land on the concrete in our backyard when it rained too heavily and would be really disgusting to pick up, especially since they normally fell down in rainy season, and I'd wait for some time until there was a day without rain to pick them up.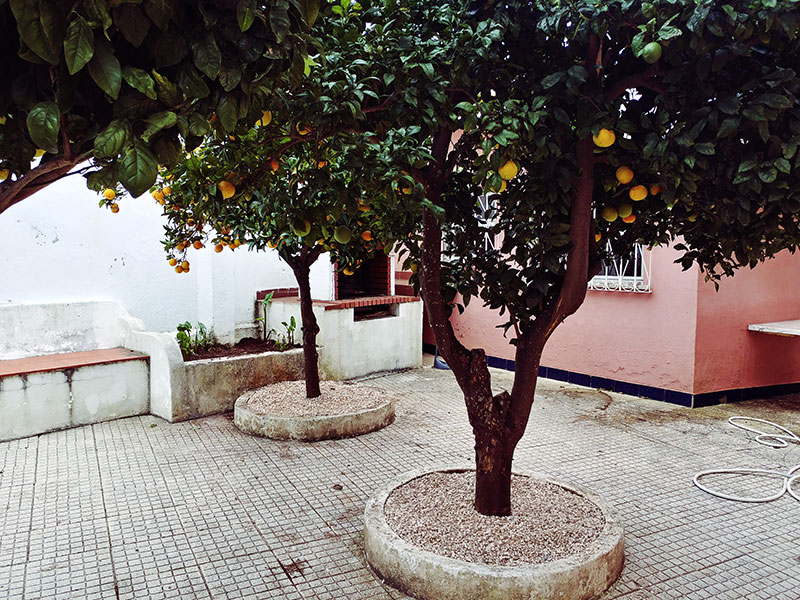 I really don't miss this chore. From – again – 6 orange trees. I know we could have kept one or two, and initially we kept the three that were more out of the way, but we're more clementine people ourselves, they weren't the tastiest of oranges, and quite frankly, I just didn't want the upkeep, so out they all came.
The first three we paid for someone to take out. With the second three, Thomas figured he'd buy a chainsaw and give it a go.
I'm glad he did, he did an amazing job taking them out. Now all that's left is the stumps, and he managed to bring down the first set of three stumps very well (the person we hired left them a bit high), so we'll get the last three out no problem once we have the time.
But of course, getting rid of all those orange trees left quite a lot to be desired. There was definitely not enough green in our garden, and while at first we were considering tearing things up and putting a massive sunroom instead of having trees, over time I realized I would probably prefer the space to stay a fully outdoor space, without being glassed in, so I got to searching for a pretty option to replace the orange trees with that wouldn't be high maintenance.
It didn't take me too long to think of yuccas, but I slacked off massively on going to grab some from our local plant store.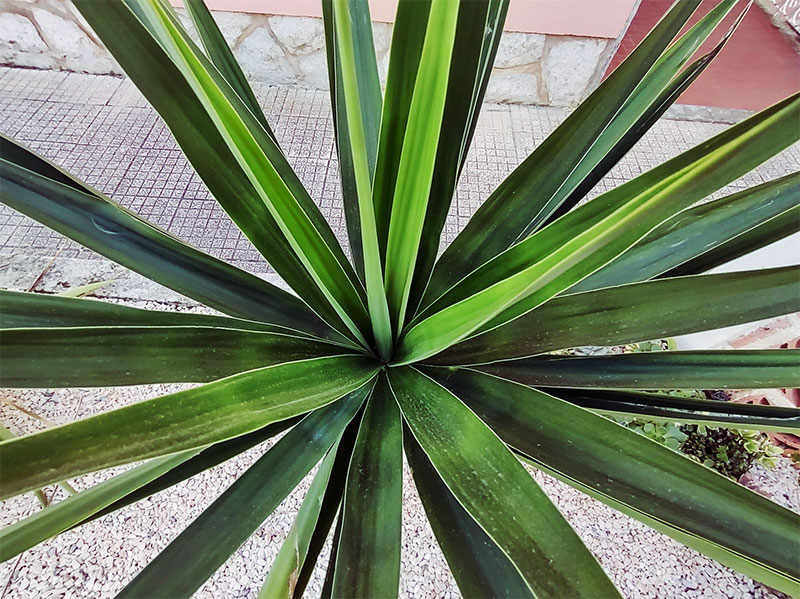 I'm lucky I did, because some months later, someone left a cutting on the side of the road after taking off a head for maintenance, and I grabbed it (okay, Thomas did), waited for it to harden off (not sure if this is possible with yuccas, the fleshy inside doesn't ever seem to harden; let me know if you know about this in the comments!), and then plopped it in the ground into the most perfect spot for a yucca cutting I could imagine.
It rooted, it started to grow, and I wished I grabbed a few other heads while they were out, though they were really heavy, not super nearby, and when I first did this, I wasn't 100% certain this was going to work so well.
Only a little disappointed, because now at least I had one, and could buy or make more yuccas from this one head once it'd grown, I waited things out.
In the local Lidl's one day months later, I noticed 3 yucca plants, nicely potted up, with a number of heads, and decided to give these a go in my garden. I planted them in the circle flower beds three of the orange trees were in prior to removing them and waited.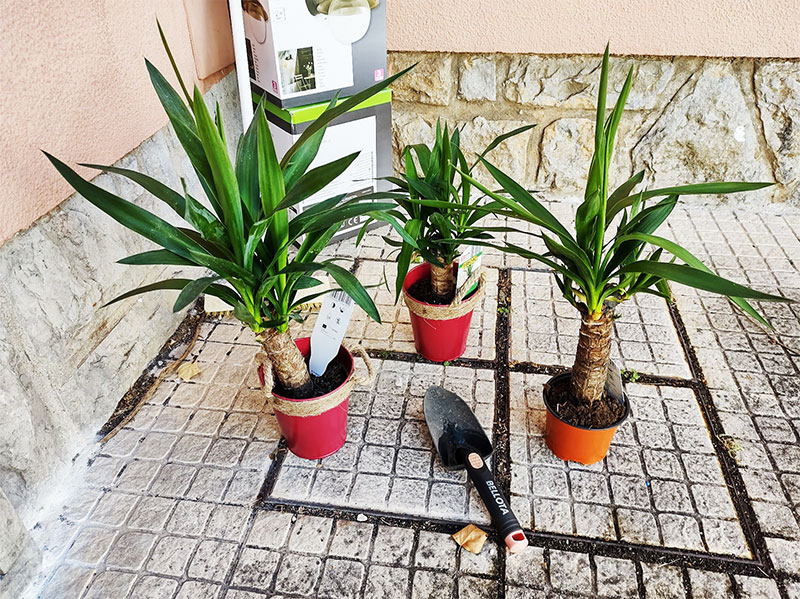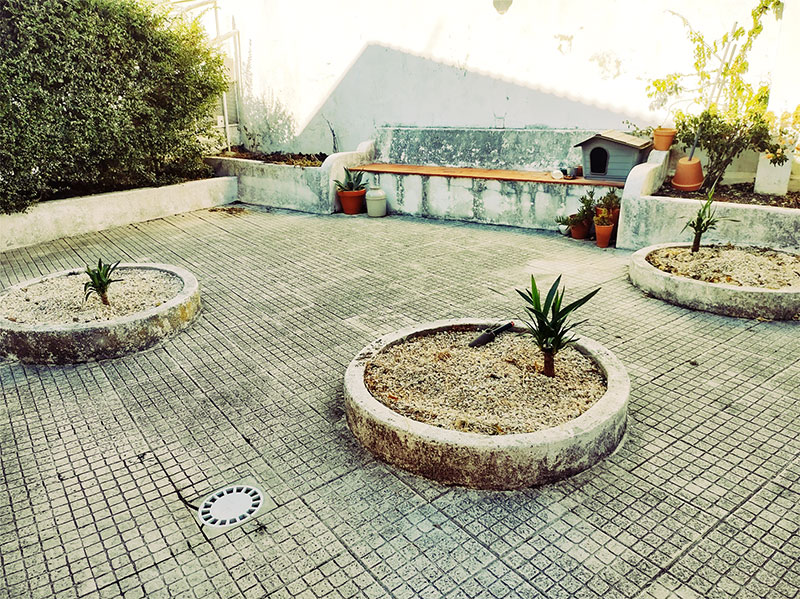 Lo and behold, just after planting these, another yucca maintenance happened, this time right on our street. There were a bunch of small heads and one big piece.
Grabbed 'em, waited for them to harden off and planted.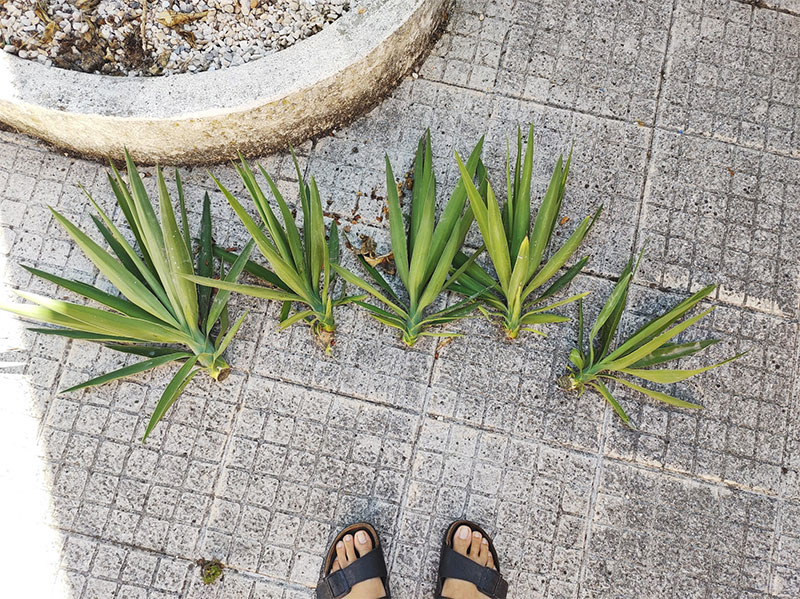 Then because we had one exceptionally long cutting that we dragged over to our house, I decided to make a separate cutting from the base of that plant to see if it would also grow heads.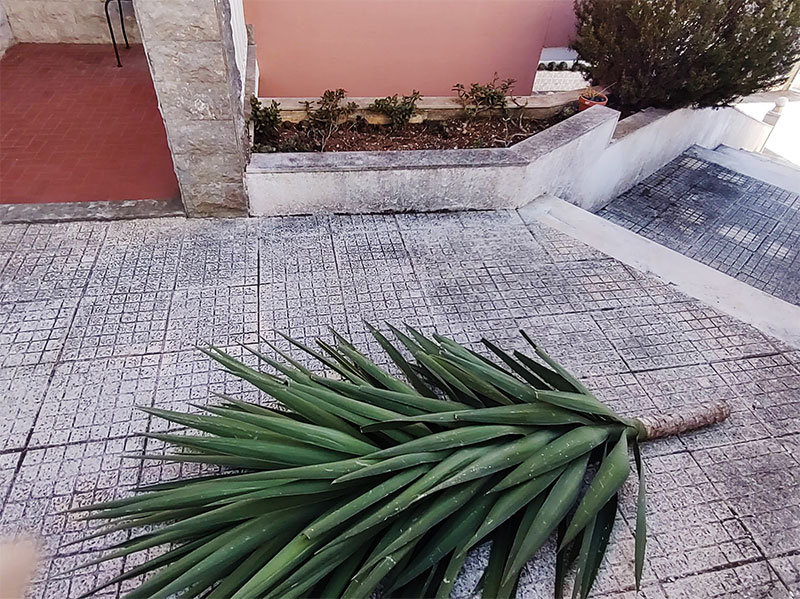 I think this may have rooted, and it still could grow some heads, as it seems to have used up some of the moisture in the trunk/stem, but nowhere near all the way down (you can see the point at which it's lost moisture to in the after picture below), but I regret taking the leaves off this cutting, as I think it would have had a much better chance at survival if I had left the leaves in tact.
You live, you learn!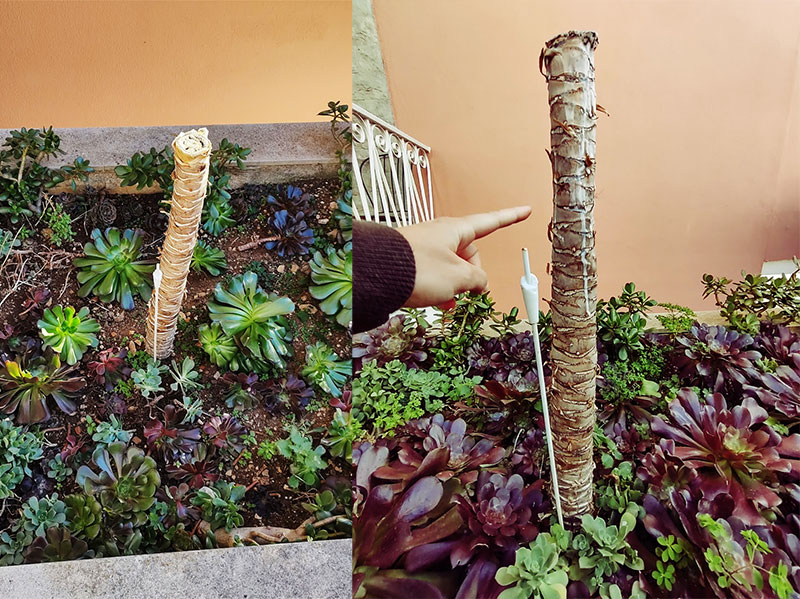 Later on, a different neighbour on our street left yucca cuttings on the road, and we grabbed as many heads as we could this time since they were pretty large, but more manageable in terms of size than the others had been.
Yes, in case you're wondering, yuccas are definitely popular here, but I would use the cuttings to start off new plants myself, so I'm not sure why others on the street threw them out – better for me!
So all in all we had: 1 old yucca cutting that had been growing away in our garden for some time (the leftmost one in the picture below), 3 small yucca plants with multiple heads, three large single-head yucca cuttings, and one large two-headed yucca cutting. Oh and the might-not-grow-heads stump and a bunch of wee heads that may or may not take considering they were small cuttings.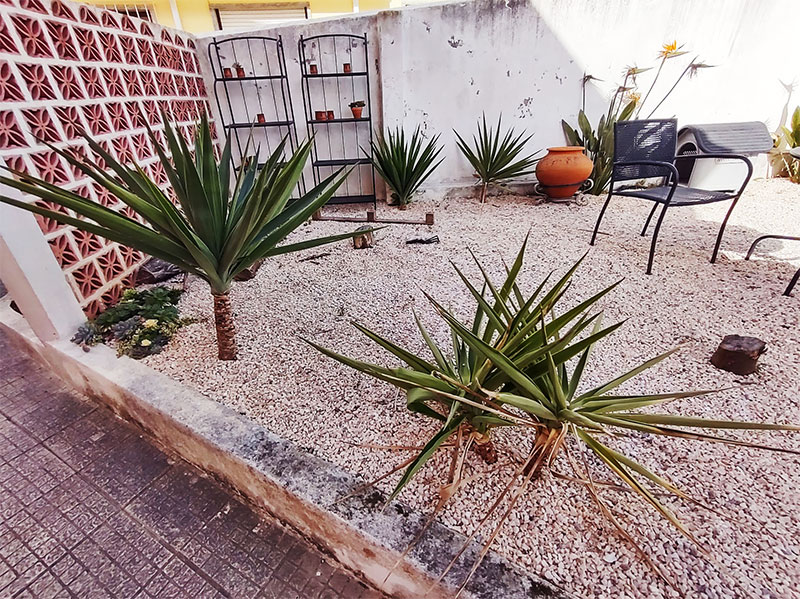 Many of these plants will eventually grow tall enough for me to take further cuttings off of them and spread them even further throughout the garden, which is pretty small and thus should fill up quickly anyway.
I'm pretty happy with what I have and there aren't really any other places I'd like to have yuccas for the time being.
The large cuttings I'm assuming will grow much faster than the small muti-headed plants we got from Lidl's. Just because larger plants in general tend to do better (in my experience).
One of the three Lidl yuccas kicked the bucket, though I'm not sure why. It could be that the area dried out more quickly or got too much sun (it's got a different exposure from the other two beds, and get hits really hard during the day with sun).
But I would actually assume it's not that, or not completely, maybe only partially. I'd guess the reason it died likely also has something to do with the split that appeared from the bottom going up the stem of the plant.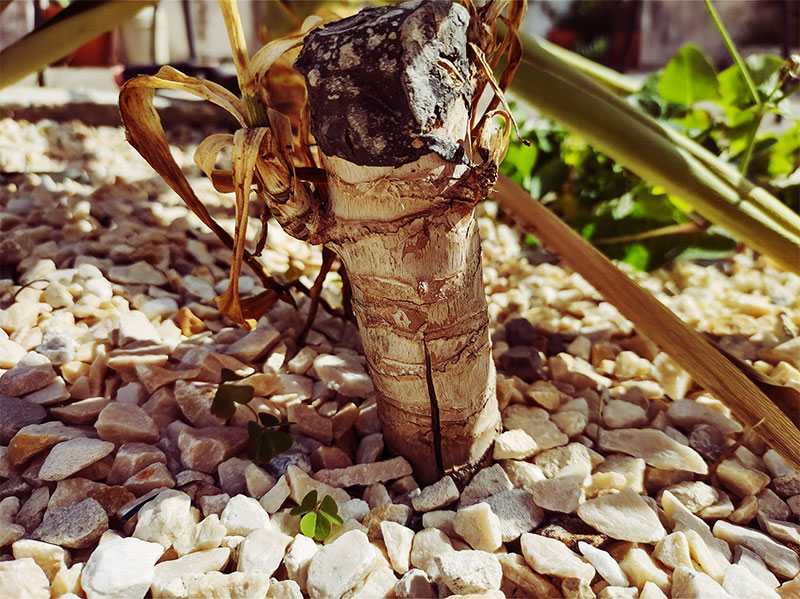 Maybe it rotted? I'll try to find out if that was the case once I'm sure this baby is completely beyond saving. I did try to plant a large head cutting above it to shield it from the sun, but I don't think it made enough of a difference, albeit the fact that it still looked like it had life in it when I tried this out.
Too bad, but not the worst that could happen.
In other yucca news, the littler yucca plants that are more sheltered from the sun have aphids all the time, but it doesn't seem to do much to them.
I try to squirt them off with the hose whenever I water, and the population dies back for a good chunk of time. I'm confident that they'll continue to grow well albeit the aphids, though if the pests start to bother me, I'll nuke them with some Fairy Liquid & water the way I did after the first (and worst) outburst photographed below.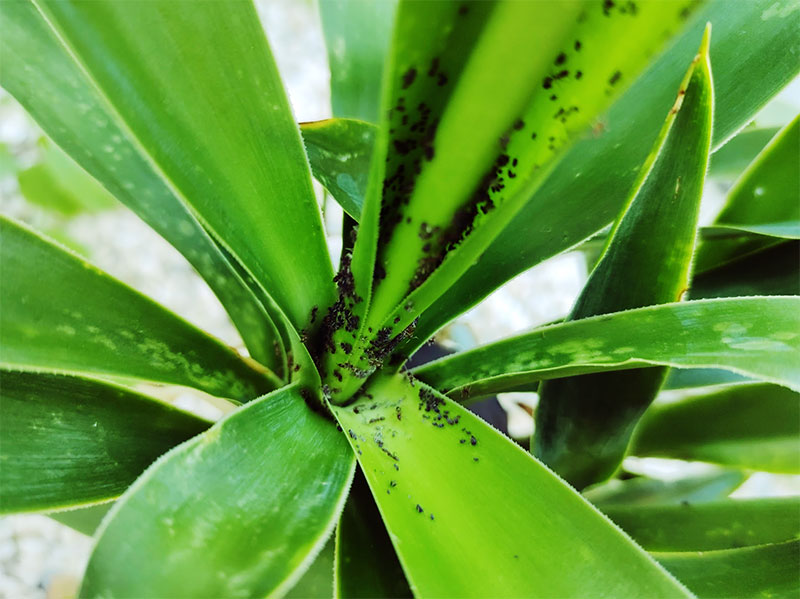 The OG yucca has probably grown a few feet already, exciting stuff!
The others I feel have rooted now and should begin to put out new growth regularly soon.
Can't wait to see them all grown. Doing some research online it seems they could grow up to a meter in height each year, which I would love!
They would definitely get too tall for my small garden over time, but they're easy to maintain, just lob off a head, make a new plant out of it if you want, and if you have too many, leave them on the side of the road for the neighbours – the circle of life continues. 😉