At the end of last month, we were getting some gorgeous sunny weather, and I was excited to be back in the garden, checking over my pots of succulents and cacti again.
There was quite a lot to do – including dealing with some mealybug infestations on the aeonium arboreum and kalanchoe blossfeldiana in the outdoor flower bed arrangement by the front gate.
There's just something attractive about the new growth on those plants – as well as no doubt the fact that I've let overcrowding take place over there on a few occasions. I always seem to have problems on those aeoniums and kalanchoe, however, so I'll be keeping a closer eye on them, and if I see ants, immediately out with the dish soap + water mix for a thorough squirt.
Anyway, on this particular day, I was also looking to fill some upcycled desert pots (from custard & rice pudding we love grabbing) with succulent cuttings, as I love the way the individual plants look in these adorable little things.
Here was the result: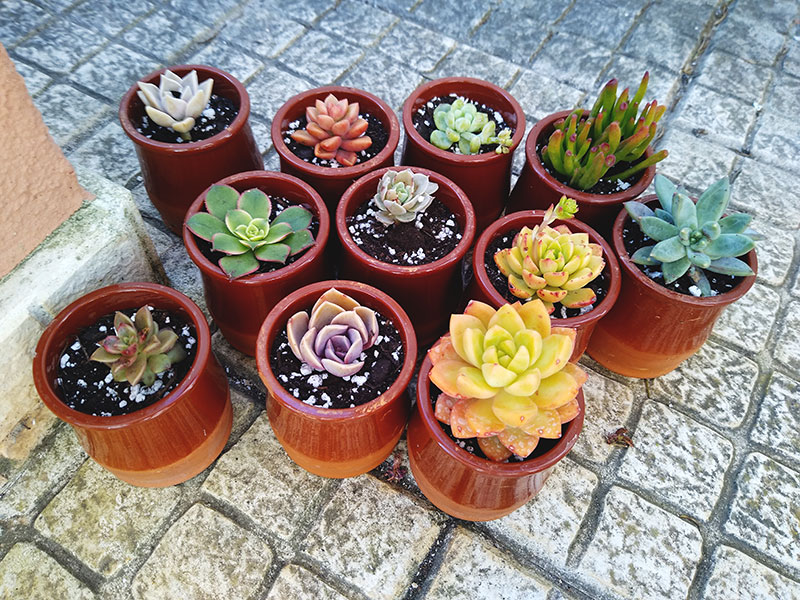 Don't worry, I do get my husband to drill a hole into the bottom of each one, so they have excellent drainage, albeit originally being essentially cups.
Somehow this small number of cuttings didn't feel like enough to me, however, as I was really keen on getting some arrangements going, clearing out the pots I had old arrangements that had gotten very leggy from when I potted them last year.
So I grabbed a short, low bowl planter – made of terracotta and with a drainage hole, as is best for all succulents, lined the bottom with window mesh cut into a square, which I do for all my pots (reduces fallout from the bottom and makes it less likely I'll get larger insects inside). Then I filled the pot with some soil – roughly a 70% topsoil and 30% pearlite mix. Finally, I got to cutting up all the pretty heads off of plants that had gotten too leggy.
This was the result: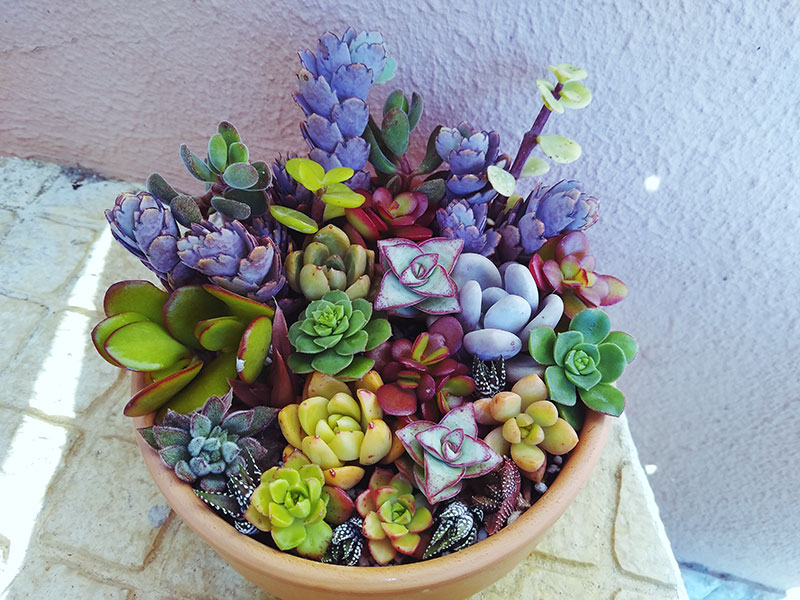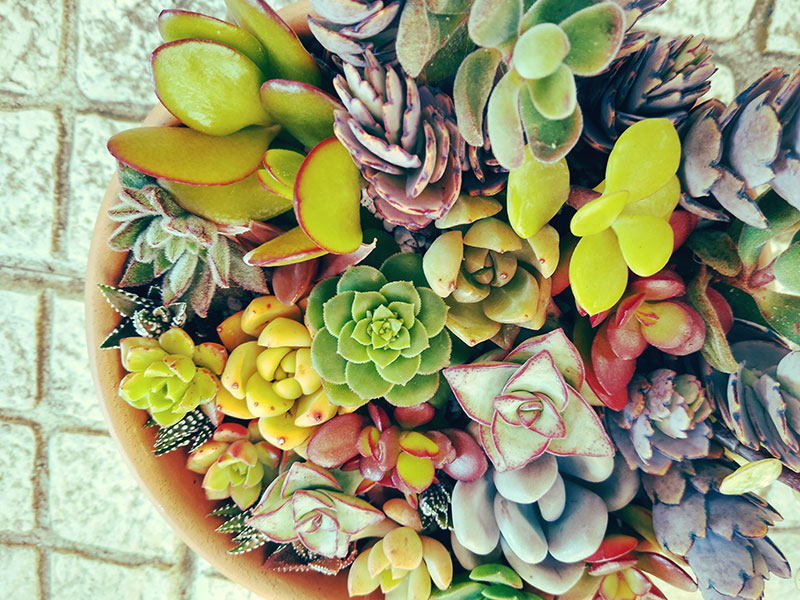 There are some plants that were previously cuttings or torn from larger plants and thus have roots on them in the mix, and those went in along with the cuttings, but you couldn't tell, since I placed them early, and put cuttings on top of them to increase the density of the mix.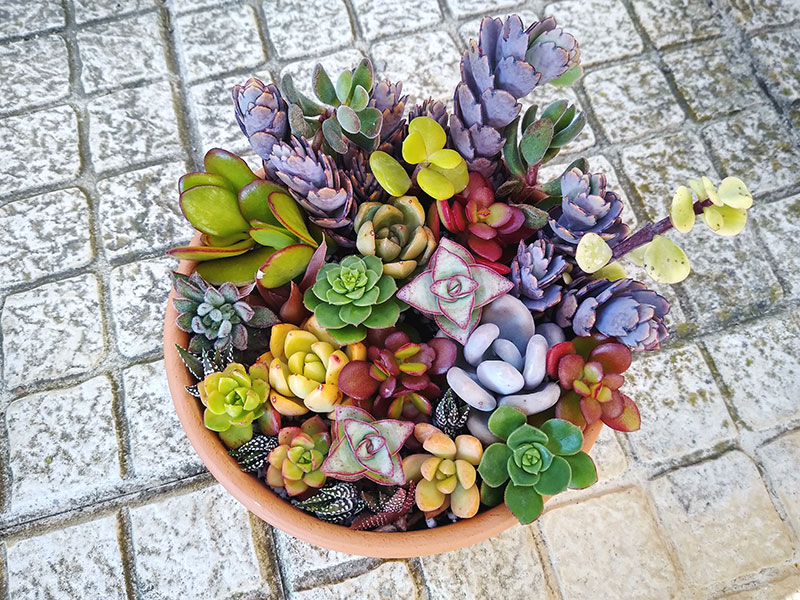 Gorgeous, I think. Turned out even better than I expected, especially since I have so much more variety in terms of plants with different shapes and stress colouring than you'd think looking at my collection as a whole.
This is a pretty good representation of all the types of succulents I've managed to collect over the past year, but definitely there are a lot of others that didn't make it into the mix. Still, there are absolutely enough in here to keep thinks looking interesting.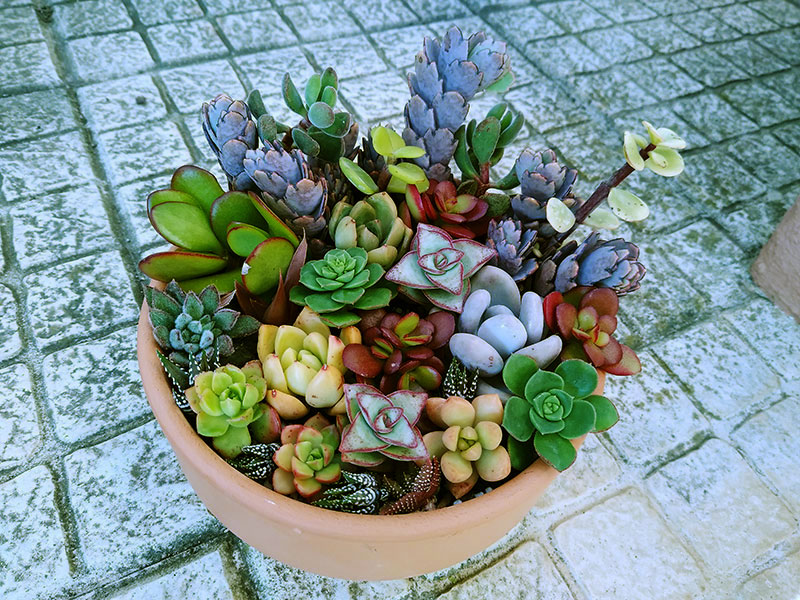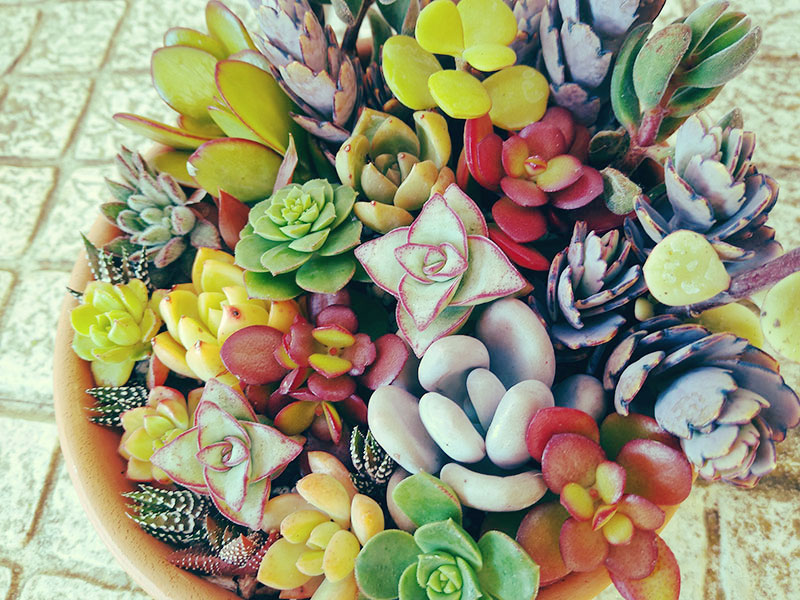 Besides the single-plant cuttings I'll continue to do in those epic upcycled dessert pots, I've decided that this is the absolute best way for me to deal with the slew of cuttings I'll always want to be taking.
From here on out, I'll be placing them altogether in a single new pot (or two, depending on how many I take), having them all in one place together.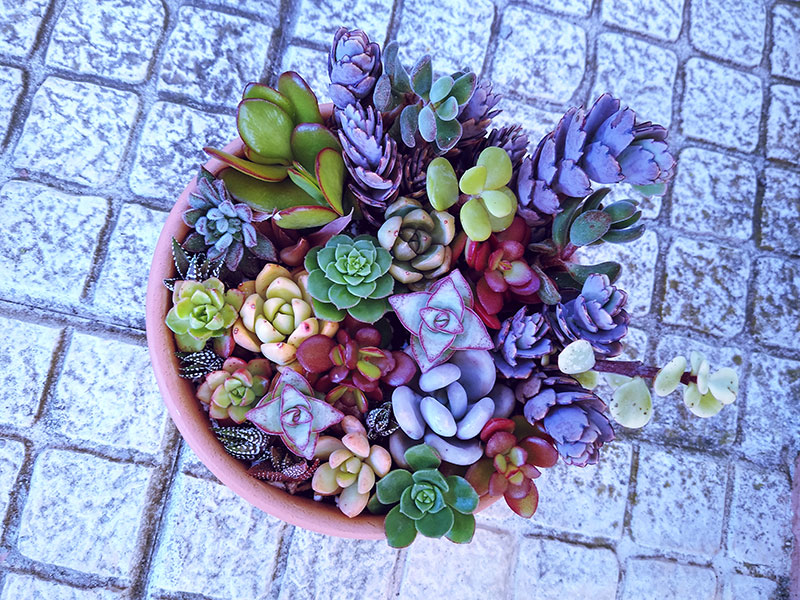 The reason is pretty simple. I'm an epic slacker who often forgets to check the weather forecast before taking cuttings since we typically get very little rain here. Then, as often happens, we get huge bouts of rain and I'm sad to say I can't remember where I tucked in my cuttings all the time, meaning a lot of them rot and die since I can't keep track.
Well no longer. With this gorgeous load of cuttings, the rain came out and I immediately moved it and the individual pots out of the rain – learning my lesson and keeping the plants that way for the rest of their lifespan as un-rooted cuttings.
Safe they are, and safe the rest of my cuttings will be from now on.