I'm sure many of you plant-lovers who follow this blog understand just how important bees are and appreciate them for the work they do.
Not only are bees valuable to humans as pollinators, necessary for agriculture and thus for our ability to survive on this planet, they're also vital to the environment and nature at large, as through pollination, bees keep alive the plants, not only we humans need to eat to survive, but other animals as well.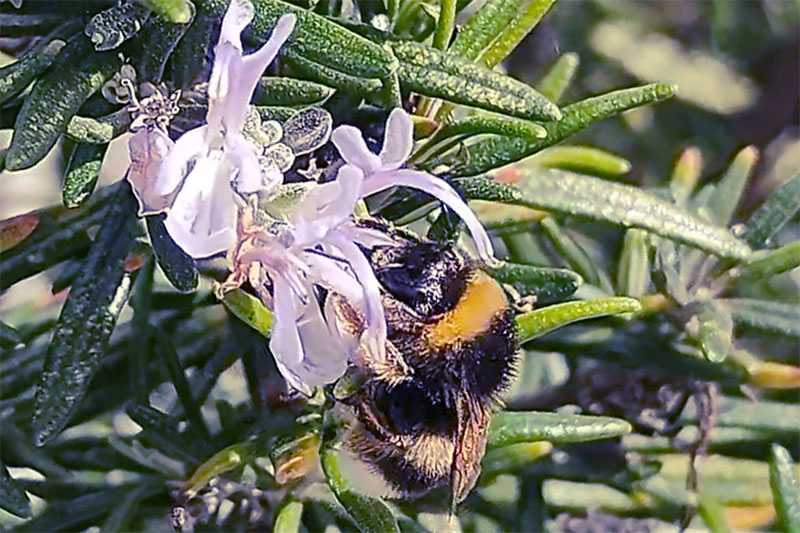 Without them, I can't imagine how much of the earth's population of animals would be wiped out entirely – which is crazy to think about considering they're such small little things for creatures that are so valuable.
But I'm sure I'm preaching to the choir here, because many gardeners already know and understand the value of these incredible insects, and do what they can to share this knowledge, as well as tips for taking care of bees, with others who share their interest in plants.
There are so many ideas I've seen floating around in terms of simple ways you can help support the bee populations in your area.
These include keeping adorable little bee hotels around your garden or even on a balcony, growing the right kinds of flowers bees love pollen from, and helping tired bees out by sharing sugar water with them whenever you see one that doesn't look able to fly due to exhaustion.
This last idea, I have definitely done a considerable amount of since I live in Portugal, where super-hot days are relatively common, and rain is pretty lacking in the summertime.
I've stumbled across a number of sad-looking, slow-moving bees on these super-hot days. When I do, I quickly run inside, grab a glass of water, spill enough on the ground near the bee to make a little pool, and often times they'll take a sip, rest for a few minutes, then fly off.
It always makes me feel good, and it always makes me want to name these cuties – the ones I've helped out being singled out in my mind as somehow more special to me than the other bees.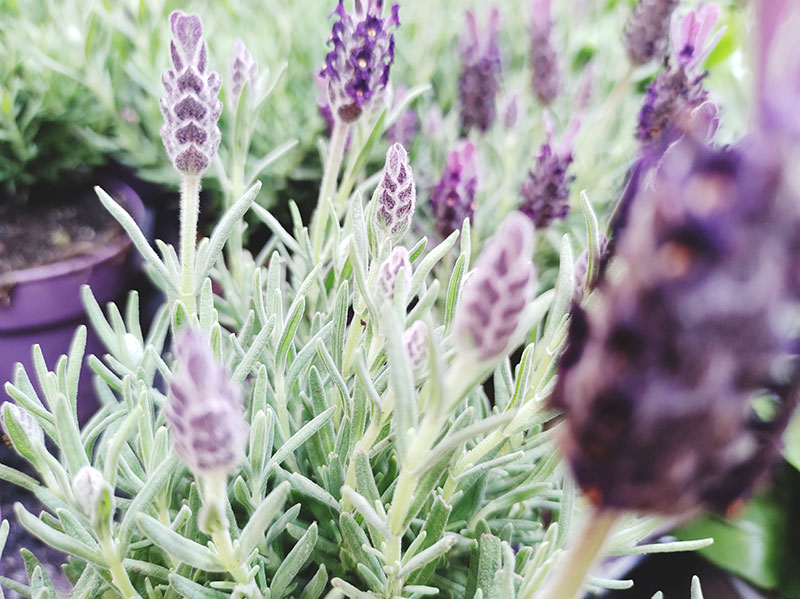 The bees I save I do like the idea of naming, but I'd also include in the list of bees that stand out enough to name pretty much any bumblebee that stumbles across my garden.
I have a soft spot for bumblebees – I think they're so stinkin' cute!
They also don't seem too common, so I don't see them all that often. When I do see one in my garden, I get pretty excited. I definitely think I've named at least a few in the past, though I can't remember what names I ended up giving them.
Since I can't be sure I'm seeing the same one over and over, it's made me less likely to name bees in the past, unlike the single bat we see every so often flying over our garden at night.
A bat I named Drew after the Buffy the Vampire Slayer character, and also because it can be a boy's name and a girl's name. If you'd like some more ideas for bat names check 'em out here.
I've written an article on the best bee names before. Not here, but on another blog of mine, Name Noodle.
But I came up with a slew of other ideas for naming bees, so I figured, instead of making that list even longer (it's already quite long already) that I'd break things up and write two new articles about bee names.
In this article, I've listed a bunch of cute ideas you could go with. In a second article on this site, I'm going to be writing about funny names to use for naming bees.
Have a favourite name or two? Like a specific idea for naming bees (like giving all the bees you name a name that starts with the letter "B," for instance) – I'd love to know in the comments down below!
Cute Bee Names
Names That Start With the Letter "B" That Would Make Good Bee Names
Girls' Names That Start With the Letter "B" That Would Make Good Female Bee Names
Bella
Brooklyn
Brielle
Bailey
Blakely
Brynlee
Brianna
Blake
Brooklynn
Brooke
Briella
Blair
Brinley
Braelynn
Brynn
Bristol
Briar
Bianca
Bonnie
Blaire
Beatrice
Belle
Bethany
Braelyn
Bailee
Bean
Braylee
Blessing
Baylee
Bellamy
Brynleigh
Bria
Berkley
Bridget
Brylee
Birdie
Briana
Bexley
Bebe
Billie
Bayleigh
Beatriz
Bryleigh
Baylor
Brinlee
Briley
Breanna
Belen
Bea
Beverly
Bliss
Betty
Brayleigh
Bunny
Barbara
Blayke
Brittany
Brynnlee
Blythe
Baani
Blakelyn
Bowie
Brie
Blossom
Brea
Bree
Bri
Bryn
Brynley
Bibi
Blakeleigh
Bby
Beatrix
Beckett
Blakelynn
Brenna
Bayan
Bentley
Betsy
Becca
Berkeley
Blakelee
Blessyn
Braylynn
Brinleigh
Belén
Berklee
Beth
Boo
Bryar
Brynnleigh
Babe
Baileigh
Basma
Blueberry
Bryanna
Brandi
Briseis
Bennett
Berlin
Bethel
Bexlee
Blanca
Boston
Braeleigh
Bri'Elle
Brighton
Brookelynn
Baker
Bana
Berkleigh
Brandy
Braylin
Brelynn
Brixley
Butu
Bebê
Beauty
Belinda
Bell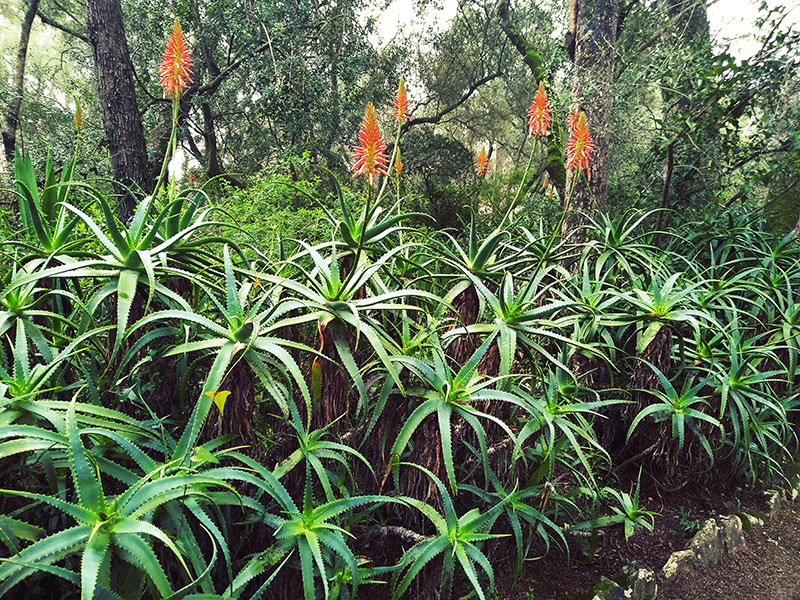 Boys' Names That Start With the Letter "B" That Would Make Good Male Bee Names
Benjamin
Bryson
Brayden
Beau
Bennett
Brooks
Braxton
Bentley
Ben
Brandon
Brantley
Brody
Blake
Barrett
Beckett
Bryce
Beckham
Bradley
Bodhi
Brian
Bryan
Brady
Baylor
Bowen
Bo
Benji
Bruce
Braylen
Briggs
Boone
Bobby
Braylon
Baker
Brycen
Bean
Benson
Brixton
Boston
Bodie
Bryant
Bellamy
Billy
Bruno
Bear
Benny
Briar
Brendan
Brock
Benicio
Braden
Blaze
Bilal
Banks
Brennan
Bentlee
Branson
Beck
Bader
Bernardo
Bishop
Bjorn
Brentley
Brett
Bowie
Brodie
Bebe
Bronson
Byron
Beaux
Blaine
Babu
Bastian
Brecken
Braydon
Brysen
Bryxtin
Bernard
Blaise
Bode
Boden
Brayson
Bob
Braxtyn
Bunny
Bridger
Benedict
Bubba
Burhanuddin
Brantlee
Bailey
Bryer
Bby
Brent
Brenden
Bronx
Benaiah
Blue
Boris
Brexton
Barry
Benjamín
Blessing
Boyd
Bram
Braven
Brighton
Bash
Boo
Booker
Braiden
Branch
Brenton
Britton
Boaz
Bradyn
Bambino
Barron
Bennie
Blueberry
Brave
Unisex & Gender Neutral Names That Start With the Letter "B" That Would Make Good Bee Names
Brooklyn
Bailey
Blake
Brett
Blaine
Bobbie
Brook
Bay
Billie
Blair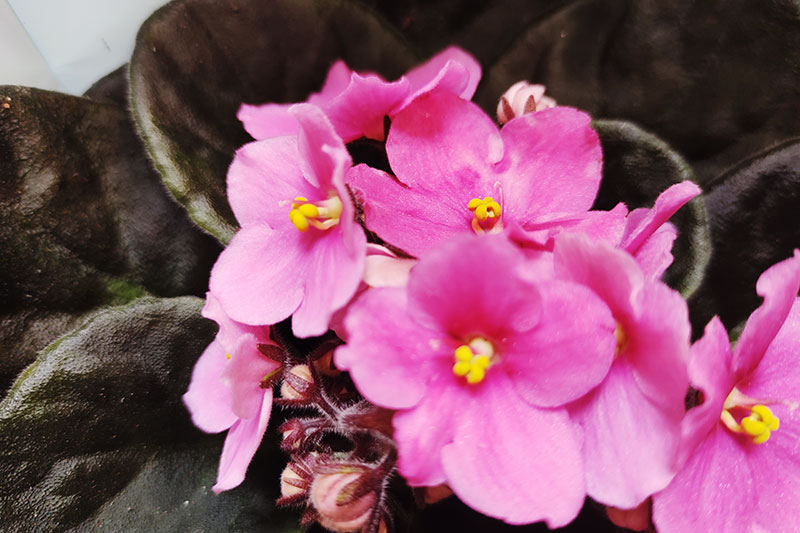 Flower Names for Bees
Female Flower Themed Names for Girl Bees
Lily
Violet
Jasmine
Rose
Iris
Daisy
Alyssa
Magnolia
Juniper
Dahlia
Poppy
Azalea
Flora
Laurel
Cherry
Camellia
Calla
Heather
Lavender
Marigold
Blossom
Zinnia
Tulip
Lilac
Myrtle
Orchid
Peony
Chrysanthemum
Petunia
Tansy
Bluebell
Hyacinth
Pansy
Male Flower Themed Names for Boy Bees
Sage
Alder
Aster
Clematis
Crocus
Dianthus
Iris
Agapanthus
Allium
Alyssum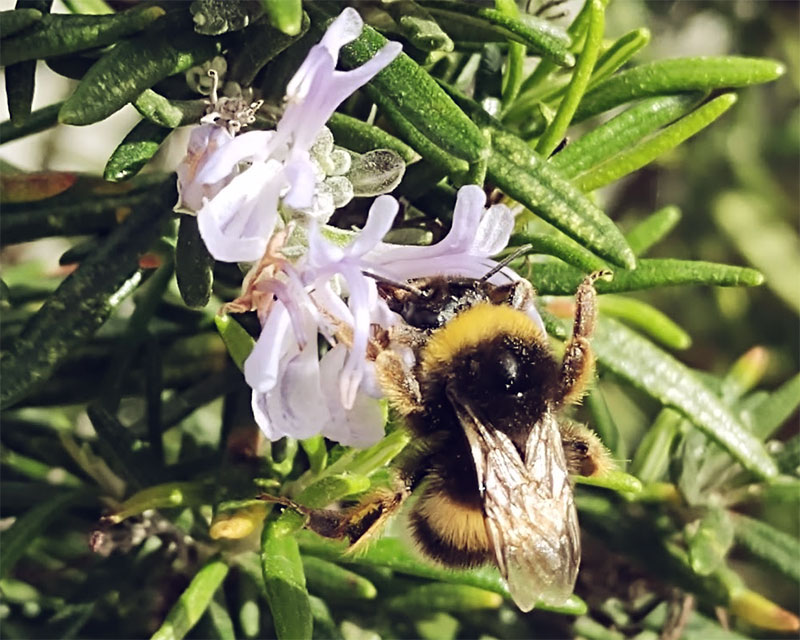 Herbs & Spices That Make Good Names for Bees
Allspice
Angelica
Anise
Asafoetida
Basil
Bay Leaf
Bergamot
Black Cumin
Borage
Burnet
Caraway
Cardamom
Cassia
Catnip
Cayenne
Celery
Chervil
Chicory
Chili
Chives
Cicely
Cilantro
Cinnamon
Clove
Coriander
Costmary
Cumin
Curry
Dill
Fennel
Fenugreek
Filé
Ginger
Grains of Paradise
Holy Basil
Horehound
Horseradish
Hyssop
Lavender
Lemon Balm
Lemon Grass
Lemon Verbena
Licorice
Lovage
Mace
Marjoram
Mustard
Nutmeg
Oreganp
Paprika
Parsley
Pepper
Peppermint
Poppy
Rosemary
Rue
Saffron
Sage
Savory
Sesame
Sorrel
Spearmint
Star Anise
Tarragon
Thyme
Turmeric
Vanilla
Wasabi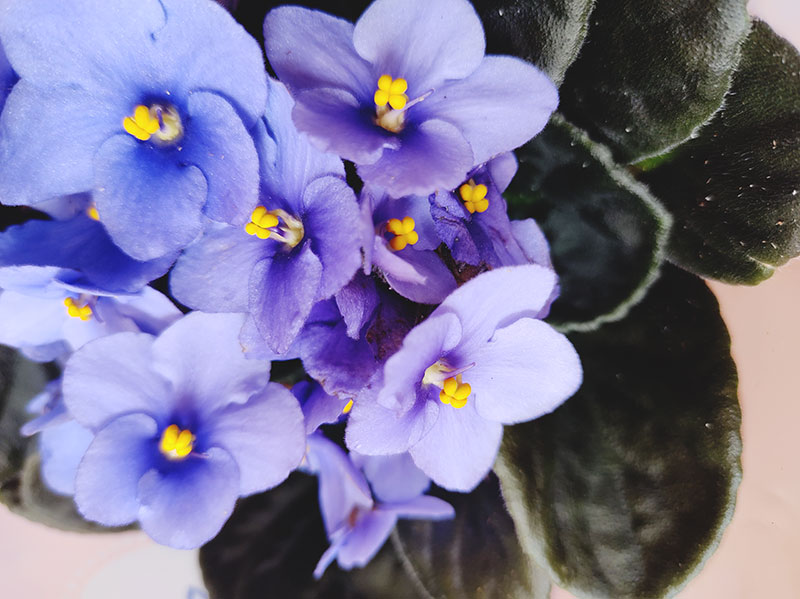 Fruit & Veggie Names for Bees
Fruits That Make Good Names for Boy & Girl Bees
Abiu
Açaí
Acerola
Ackee
African Cucumber
Apple
Apricot
Avocado
Banana
Bilberry
Blackberry
Blackcurrant
Black Sapote
Blueberry
Boysenberry
Breadfruit
Cactus Pear
Canistel
Cempedak
Cherry
Chico Fruit
Cloudberry
Coco De Mer
Coconut
Crab Apple
Cranberry
Currant
Damson
Date
Dragonfruit / Pitaya
Durian
Egg Fruit
Elderberry
Feijoa
Fig
Goji Berry
Gooseberry
Grape
Raisin
Grapefruit
Guava
Hala Fruit
Honeyberry
Huckleberry
Jabuticaba
Jackfruit
Jambul
Japanese Plum
Jostaberry
Jujube
Juniper Berry
Kaffir Lime
Kiwano
Kiwifruit
Kumquat
Lemon
Lime
Loganberry
Longan
Loquat
Lulo
Lychee
Magellan Barberry
Mamey Apple
Mamey Sapote
Mango
Mangosteen
Marionberry
Melon
Cantaloupe
Galia Melon
Honeydew
Watermelon
Miracle Fruit
Monstera Deliciosa
Mulberry
Nance
Nectarine
Orange
Blood Orange
Clementine
Mandarine
Tangerine
Papaya
Passionfruit
Pawpaw
Peach
Pear
Persimmon
Plantain
Plum
Prune
Pineapple
Pineberry
Plumcot / Pluot
Pomegranate
Pomelo
Purple Mangosteen
Quince
Raspberry
Salmonberry
Redcurrant
Rose Apple
Salal Berry
Salak
Satsuma
Sloe / Hawthorn Berry
Soursop
Star Apple
Star Fruit
Strawberry
Surinam Cherry
Tamarillo
Tamarind
Tangelo
Tayberry
Ugli Fruit
White Currant
White Sapote
Yuzu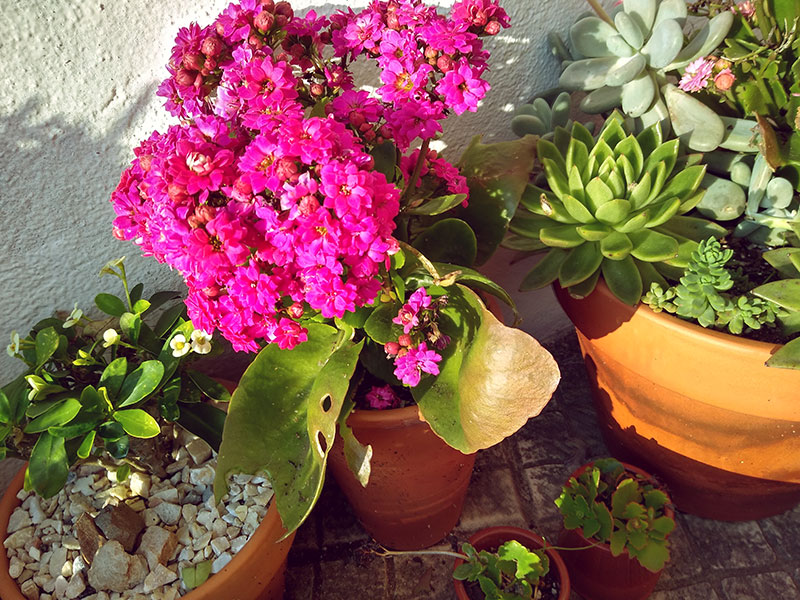 Vegetables That Make Good Male & Female Bee Names
Acorn Squash
Alfalfa Sprout
Anise
Artichoke
Arugula
Asparagus
Aubergine / Eggplant
Azuki Bean / Adzuki
Banana Squash
Basil
Bean Sprout
Beetroot (UK) / Beet (US)
Bell Pepper
Bitter Melon
Black Bean
Black-Eyed Pea
Bok Choy
Borlotti Bean
Broad Bean
Broccoflower
Broccoli / Calabrese
Brussels Sprout
Butternut Squash
Cabbage
Caraway
Carrot
Cauliflower
Cayenne Pepper
Celeriac
Celery
Chamomile
Chard / Beet Green
Chickpea / Garbanzo / Ceci Bean
Chili Pepper
Chive
Collard Green
Coriander
Corm
Courgette (UK) / Zucchini (US)
Cucumber
Cymbopogon / Lemongrass
Daikon
Delicata
Dill
Eddoe
Endive
Fennel
Fiddlehead
Frisee
Garlic
Gem Squash
Ginger
Green Bean
Greens
Habanero
Horseradish
Hubbard Squash
Jalapeño
Jerusalem Artichoke
Jicama
Kale
Kidney Bean
Kohlrabi
Konjac
Lavender
Leek
Lentil
Lettuce
Lima Beans / Butter Bean
Mangetout / Snap Pea
Marjoram
Marrow (UK) / Squash (US)
Mung Bean
Mushroom
Mustard Green
Navy Bean
Nettle
New Zealand Spinach
Okra
Onion
Oregano
Paprika
Parsley
Parsnip
Peanut
Pea
Pepper
Pinto Beans
Potato
Radicchio
Radish
Red Cabbage
Rhubarb
Rosemary
Runner Bean
Rutabaga
Salsify / Oyster Plant
Savoy Cabbage
Scallion / Spring Onion (UK) / Green Onion (US)
Shallot
Skirret
Soy Beans
Spaghetti Squash
Spinach
Split Pea
Squash
Sweet Potato
Sweetcorn
Tabasco Pepper
Taro
Tat Soi
Thyme
Tomato
Topinambur
Tuber
Turnip
Wasabi
Water Chestnut
Watercress
Yam
Zucchini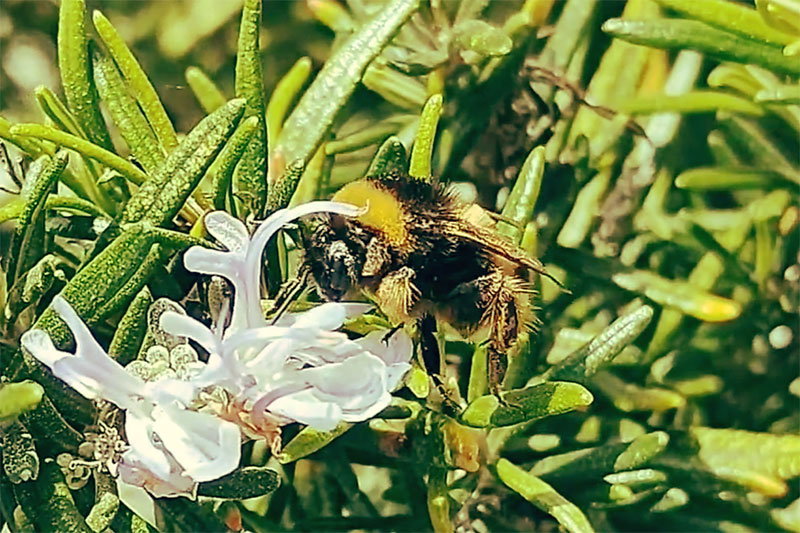 Your Thoughts on Cute Bee Names?
What are your favourite names for bees? Are there any names you've used for bees in the past? Which bees were you naming?
Which types of bee names do you gravitate to? Do you like the idea of using flower names? Vegetable names? Fruit names? Do you prefer to stick to names that start with the letter "B"?
And slightly off topic – but if you do anything to help out the bee population in your area, would you be willing to share your techniques and any tips you might have for other gardeners looking to help out the bees?
Looking forward to hearing your thoughts in the comments below!