While I was putting together my list of cactus puns, I came across a slew of succulent-themed puns too good not to share.
I will admit – the cactus puns are still my favourite. There's something about puns that revolve around prickles, pins, points, and sharpness that gets me every time.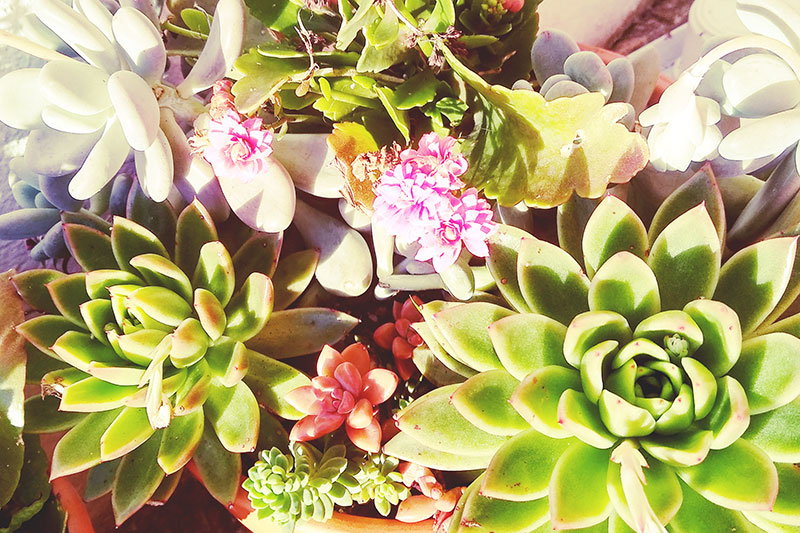 That being said, the play-on-words potential you have with even just the start of the word succulent – "succ" – is pretty limitless.
There are a plethora of hilarious puns you can make based on replacing the word "suck" with the start of the word succulent alone.
Succulent puns make for some absolutely amazing cards for anyone who loves succulents.
I've seen a number of birthday, Christmas, and miscellaneous other occasion cards that are succulent themed, and they're typically ever-so-cute and embellished with gorgeous drawings of aloe, cacti, echeveria, and other succulents.
I think these puns make for the perfect gifts as well, as so many of them already come printed on mugs, t-shirts, calendars, and other novelty items and memorabilia.
How could any succulent-lover not appreciate a gift so adorable?
I have absolutely no idea how far the rabbit hole goes when it comes to succulent puns.
I've done my best to compile as comprehensive a list as possible of the many I've seen around the net, but I'm 100% sure I've missed a slew of hilarious punny one liners, and potentially even some that are more humorous than all the puns I've managed to compile.
If you've heard of any more succulent puns, do share them in the comments down below!
If you can think up new ones, I'd love to hear them as well; a list of good puns is never too large for me to want to hear more.
Ever use a succulent pun on a card, t-shirt, mugh, calendar, or some other type of novelty item as a gift?
What was the pun, what was it on, and what did the receiver think of the present? Would love to hear if you have stories about this in the comments down below as well!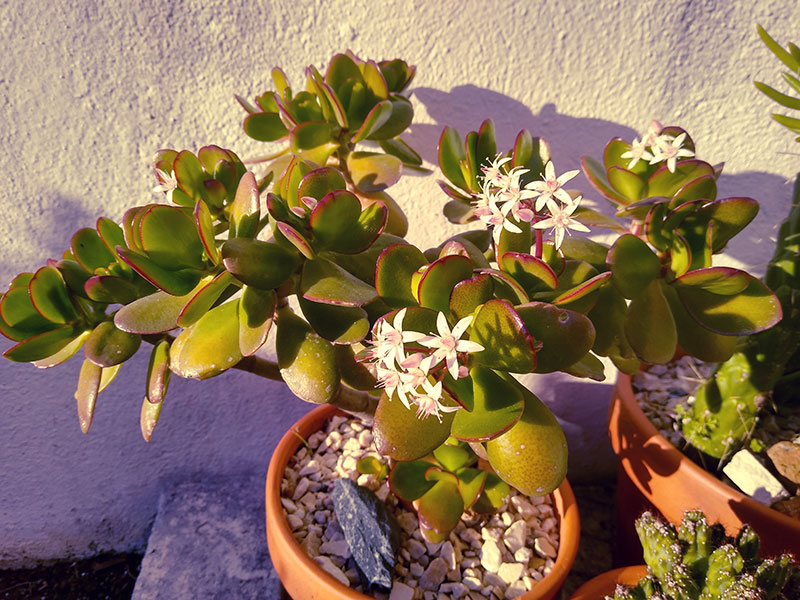 Succulent Puns That Make for Cute Cards & Gifts
Romantic Pick Up Line Succulent Puns
These are probably the sweetest romantic-themed puns I've ever heard.
I have to admit, I actually think I like this particular category of puns even more than the alternative ones that combine cacti + romantic interests, significant others, crushes, and all that jazz.
There's just too much cuteness in those puns on "aloe," and "succa" works so well within this context! Let me know if you can think of any more.
You had me at aloe.
Aloe, is it me you're looking for?
Punny Succulent Complements
These are funny complements that mostly have to do with a play on the word "suck" and a switch for the start of "succulent" again.
There're too good not to share, but they're definitely a little obvious.
You are suc-cute-lent.
You don't succ.
I think you are succulent.
Punny Succulent Insults
If you're looking for a way to insult a friend with a cute lil pun on the word succulent, this is ridiculously easy to do.
Succ it.
Succs to be you.
Advice in the Form of Succulent Puns
There are a few one liners that make for really great succulent-themed advice.
I absolutely think it'd be very easy to make up a slew more of these, so for those of you who can come up with one or two more, please let me know and I'll add them to the list!
If you have a succulent-loving friend who's going through a rough patch, and really enjoys being distracted with a joke that acknowledges how frustrating their current situation is, these would make for epic cards, I think.
Life succs!
When life succs, wet your plants.
Stand tall and look sharp.
Succ it up!
Meta – Succulent Puns About Succulent Puns & Succulents
Meta-puns, or in this case succulent puns about succulent puns, are some of my favourite types of puns around.
Again, there aren't too many that I've found, but what meta-succulent puns there are I really do adore.
Absolutely not sure where and how you'd use these, but thought they were too cute not to share!
I'm a succa for puns.
Succulents are plant-tastic.
Miscellaneous Succulent Puns
These succulent puns don't fit into other categories, but would make for great puns in a bunch of different circumstances.
Aww succs.
Sometimes I wet my plants.
Succ-cess!
Mommy's a succa for me.
Everything succs.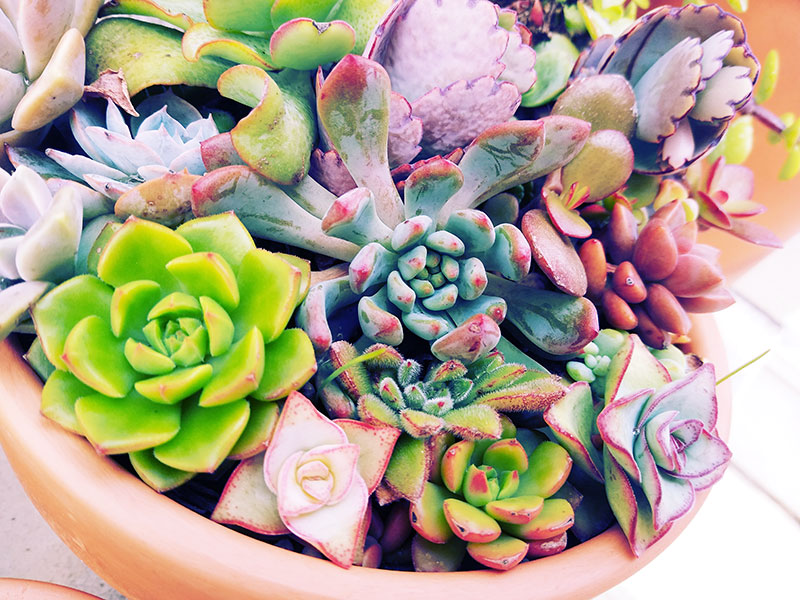 More Specific & More General Succulent-Themed Puns
In case you like the idea of succulent puns but want to open your options up to other types of puns, I've added a few more specific and more general puns perfect for those who love succulents.
These are puns related to specific succulents, like cacti and aloe vera, as well as general puns that revolve around gardening in general, and plants in general.
Cactus Puns
I've got a whole article on cactus puns, so if you like where these puns are going, be sure to check out more cactus puns here.
As I mentioned in the intro, these puns have a lot to do with sharpness, prickliness, sticking – that kind of thing.
Basically concentrating on cactus spines (the "thorns" of a cactus).
Cactus puns are succulent.
I'll never desert you.
You prickle my fancy.
Best friends stick.
I wanted to make up a cactus joke for your birthday, but I'm just not that sharp.
I'm so glad we pricked each other.
Aloe Puns
Aloe puns are also ever-so-fabulous, it's hard not to love them.
There are quite a lot fewer variants of these than there are cactus puns, but those that exist are in my opinion ridiculously cute and incredibly easy to vary up in terms of customizing puns to your liking.
If you've got an itch to make your own customized pun, try using "aloe" to replace the word "hello" or the words "I love" in some way, "vera" to replace the word "very," and finally, for a combination – "aloe vera" to replace "I love very" in a pun.
You say goodbye, I say aloe.
I'm vera awkward.
Plant Puns
General plant puns work ridiculously well if you've got a friend into plants, even if they don't have their own house plants or garden.
I think these are super sweet to put on cards and cute little novelty items like pencil cases.
Obviously they'd make great mugs and t-shirts as well, with gorgeous little illustrations of any plants right next to the pun.
Rootin for you!
Be nice or leaf.
Gardening & Gardener Puns
If you have a friend who's really into his or her garden, I think these would make for the most perfect puns of all, especially if you can't find a succulent pun to fit the jist you were going after.
These are puns that I personally adore more than general plant puns, because they feel more intimate and directly point out the plant-obsession, and I love that about them.
Do let me know if you can think of more in the comments section below.
You grow, girl!
Pot head.
I can't keep calm, my plants need me.
I love plants so much, I soil myself.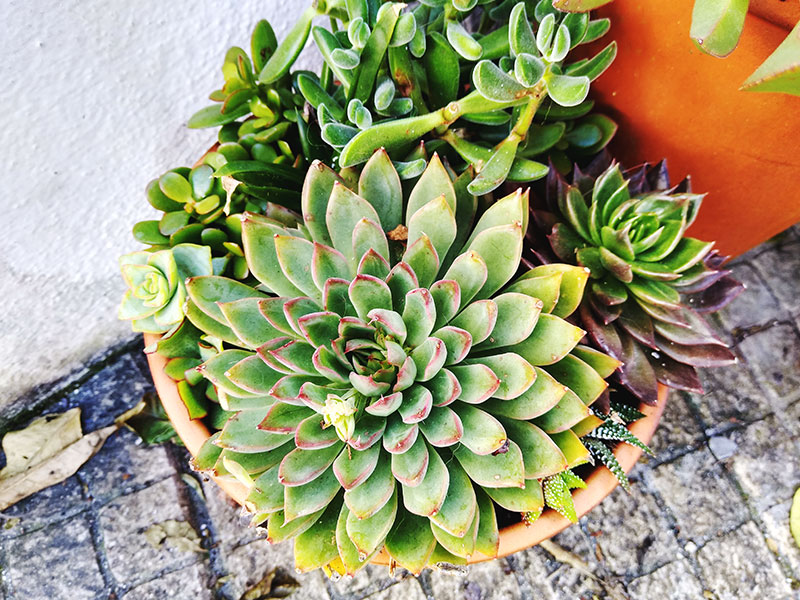 Your Thoughts on Succulent Puns?
What are your favourite succulent puns on this list? Do you have a few more you can share?
Have you ever bought a card with a succulent pun on it? Ever gave a gift like a calendar or a t-shirt that was succulent themed?
What was the pun used? How did it go over?
Would love to hear your thoughts and stories in the comments down below!