To my knowledge (please correct me in the comments if I'm wrong), if your cactus is yellowing, there are three potential candidates that could be the possible cause:
Your cactus has rot.
Your cactus has sunburn.
Your cactus has pests.
None of these things are good for your cactus, but no matter which one your cactus turns out to have, there are things you can do to bring your cactus back from a bad state.
The worst of the three is rot, but even then, you can absolutely save a plant from rot in many cases.
Sunburn is the easiest potential problem to remedy, but there are plants (in my experience) that are too far gone and have been sunburned to the point where they cannot recover. The same can be said of cacti with pest problems.
Essentially it's important to take action as soon as you notice a problem with yellowing, because the more time passes with a fix not being implemented, the harder it will be for the cactus to make a full, quick recovery, and some cacti may not make it if the problem has persisted for too long.
Let's get into the diagnoses and then getting into the fixes.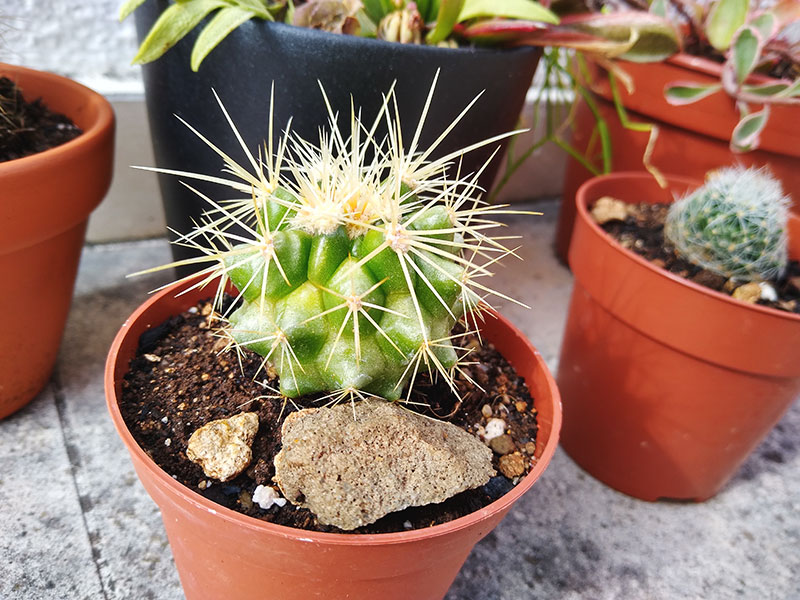 How to Diagnose the Problem Behind Your Cactus Yellowing
Have a look at your cactus closely, especially in regards to where the yellowing is taking place.
Is your cactus yellowing at the bottom, while the top remains fairly green and hasn't really changed colour at all?
Your cactus' issue is likely rot.
Is your cactus yellowing on one side – specifically the side that's facing the light.
Your cactus' issue is likely sunburn.
Is your cactus turning yellow in odd places, and not in one cohesive place like the bottom or along one side of your cactus?
Your cactus' issue is likely pests.
Now that you've diagnosed your cactus' likely problem, let's get on to how to solve it.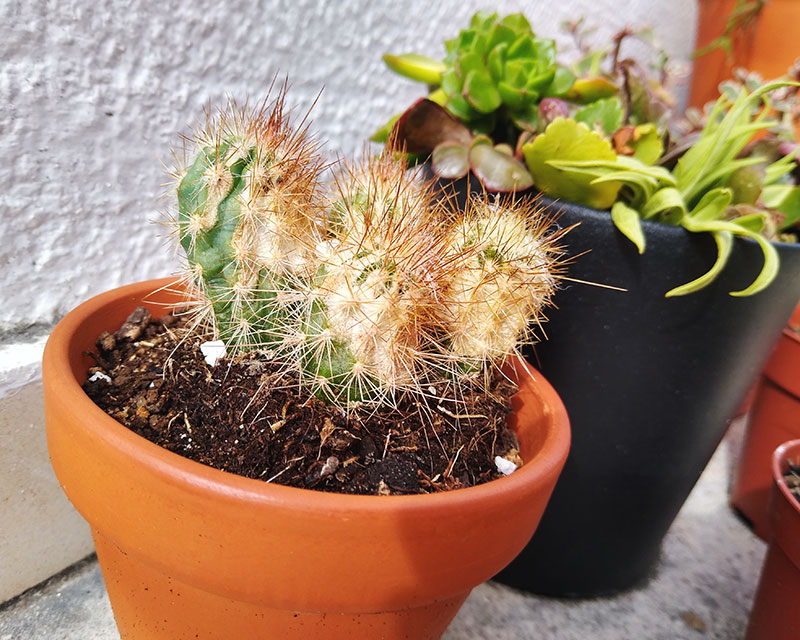 How to Fix Problems Related to a Cactus Turning Yellow
Fix to Cactus Yellowing Problem 1: Rot
If your cactus has rot, you have to be a lot more pro-active than you would if it had either of the other problems – sunburn or pests. And while not all cacti with rot can be saved, many can, based on my experience.
The resolution to this one? Uproot your cactus, have a good hard look at where the rot is, map out a mental line above the rot where you think there will be completely healthy tissue, and cut there.
I once bought a cactus from a local supermarket that had root rot, and I hadn't noticed when I picked it up. A few weeks later, I noticed – not only yellow discoloration – but a full on black and some serious caving in.
In an attempt to save my cactus, I took it out, and asked my husband to cut in a straight line (he's a master at cutting & knives in general) right at the point I thought would reveal purely healthy tissue.
There was rot right in the middle of the cactus even at the point where I'd asked him to cut, but a lot less than the bottom of the plant, so I asked him to cut a wee bit higher, then when that revealed a smidgen left of rot smack dab in the center (a teeny black spot), I asked him to cut one last time.
This did the trick. The entire straight line that he'd cut at the bottom exposed gorgeous, green growth, untouched by rot completely.
Leaving the cactus to harden off/callous over for a week or two in a dry, shady place, I then plopped it onto some soil and began to water it as regular, so it would grow new roots when it was ready.
I'm not sure about the success rate of this technique, but based on my experience, cacti are pretty darn strong and sturdy, and do grow back roots, though some much more quickly than others.
Do your best not to over-water, as this may have caused the problem in the first place. Also make sure your cactus is in well-draining soil – either a cactus & succulent potting mix or one you've made at home yourself.
When it comes to watering, make absolute sure you are not giving your cactus water until the soil in the pot is completely dry (stick your finger deep into the soil before you consider watering to confirm this).
Your plant may have had root rot for other reasons – such as being over-watered in the shop you bought it from like mine was.
Some cacti come having been planted in the wrong soil mix from the start, and if this is the case, re-potting in a well-draining soil is a great idea.
If you aren't sure, try using a store-bought or homemade cactus & succulent potting mix when you cut the rot off to re-set your plant, just to be safe.
If a cactus has rot, to my knowledge, there's no remedy for that plant besides cutting off the rot, and if that rot happened to be at the bottom, leaving it to callous over then re-potting and waiting for it to re-grow roots.
If you leave rot alone, not only is the plant not getting the water it needs (how can it if its roots have rotted?), but I do believe the rot almost always spreads, destroying more and more of the plant until you no longer have a live specimen on your hands.
The faster you can remove the rot, the more of the plant will be left in-tact, so it's important to take action as soon as you identify rot as the problem.
Fix to Cactus Yellowing Problem 2: Sunburn
Don't get me wrong – sunburn can be fatal for a cactus – but if you pay close attention to your plant from the moment you bring it home, or happen to catch sunburn quite early on, the fix is the easiest of all: simply move the plant to a more shady place.
I've personally lost a few cacti to sunburn. Basically I have all my cacti and succulents outdoors – am a bit too afraid to take in any houseplants that are toxic to cats since both my indoor furries would almost certainly try to nibble on them.
I planted a couple in the ground, a couple in a pot together, and sadly, we got hit with a heat wave shortly after, and I happened to be doing quite a lot that week so I didn't notice or have time to move the plants until they were past the point of no return.
Now I do my best to keep a very close eye on plants as soon as I bring them home, to make sure they're doing well in the spot I chose for them shortly after their arrival.
If they start off doing quite well, they typically stay that way, unless there's a heatwave, in which case I'll pay close attention again, and move plants that are looking a little sunburned into a shadier place to stay.
It's often recommended to slowly transition new succulents and cacti to stronger and stronger sun.
It's also true that smaller plants will typically not be able to stomach as much stress (too much sunlight, too much water, etc.) as mature plants – so keep this in mind if you've been having a lot of problems with sunburn.
Another thing to keep in mind is that, while cacti are desert plants, a lot of them will grow in the shade of larger plants in their natural environments, not completely in full sun for all the hours of the day, so don't worry about hiding them behind another plant or keeping them in partial shade if that's where they seem to be happy.
Basically, play it by ear, because one person's sunny window might be much more shady, or much more sunny than your own, and the only thing that's important is finding that perfect spot for your cactus.
Fix to Cactus Yellowing Problem 3: Pests
Pests can also cause cacti to turn yellow. They typically create patches of yellow throughout the surface area of a cactus, rather than localizing in one particular place alone.
If you look very close up to your cactus, to my knowledge you should be able to see nearly, if not all, pests with the naked eye.
Getting a visual on the type of pest will help you select a custom-tailored remedy.
The most common cactus pests are: scale insect, mealybug, and spider mite. Spider mite is the most likely culprit if your plant is turning yellow.
Most insecticidal soaps list all these pests, as well as aphids and mites which more commonly pester other succulents.
You can also make a home-remedy version with just soap and water, giving that a try before you progress to a commercial solution to fix things.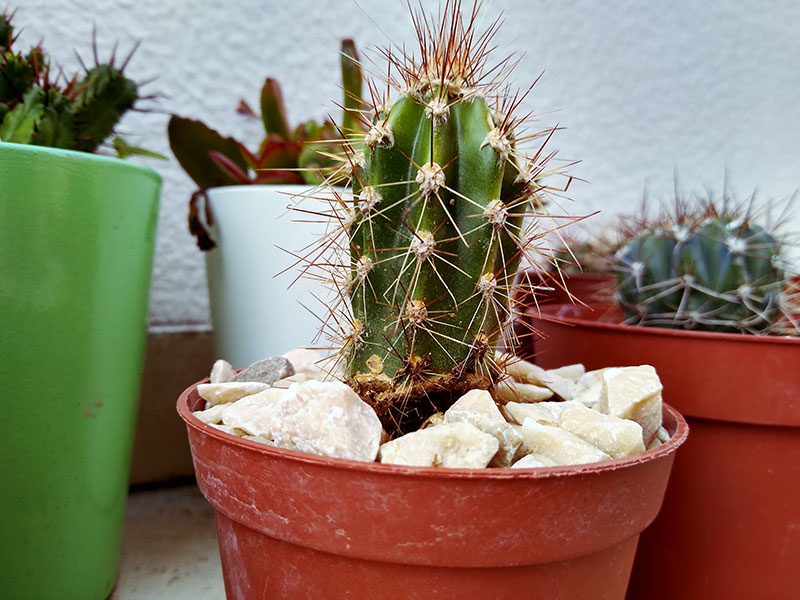 Your Thoughts on Yellowing Cacti?
Do you have a cactus that's turning yellow? Have you managed to diagnose the problem?
If so, which is it? If your cactus doesn't seem to be yellowing in any way that matches my description, how is it yellowing?
Are there any other problems that cause yellowing in cacti that I happened to miss listing?
Any other fixes for rot, sunburn, and pests that you can share? Do you have any advice for those who have yellowing cacti at home?
Love to hear any and all thoughts you have on the topic below!