I've been intending to share this technique of topdressing cacti for ages, as I put these pots of cacti together nearly two years ago now!
Don't ask me why I hadn't got around to sharing these pictures & thoughts until now. I haven't a clue!
I guess at the very least, the upside is I can tell you how this technique holds up over time (very well, except lighter rock, like volcanic lava rock sometimes moves out of place a little bit when you water), so that's a bit of a bonus! Let's get into it.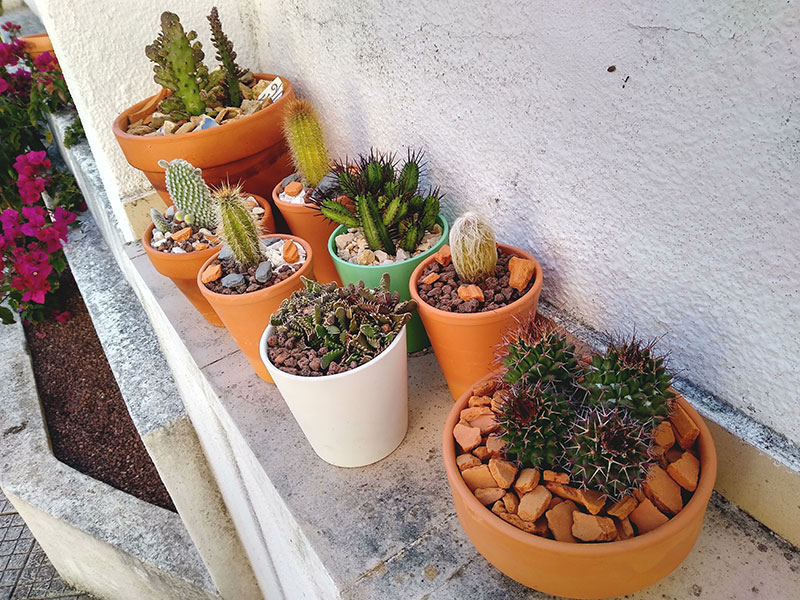 Basically, I love the look of topdressing – in pots, in flower beds, everywhere! I think it adds so much to the final look, and I probably have Laura Eubanks and her incredible YouTube videos to thank for drilling this into my head (how many times does she say "I don't want to see soil!" in the span of a month?)
So ages ago, I bought a tonne of different types of rocks for topdressing my plants. Some of this went to topdressing the flower beds, some of it I saved for plants I wanted to pot up.
The vast majority of plants I keep in pots are cacti, as I don't like having these in the ground – with a few exceptions.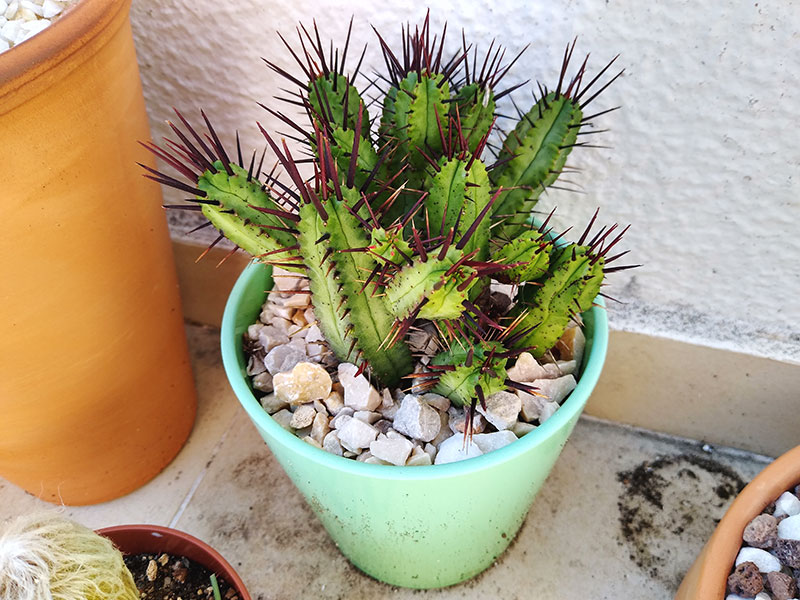 In my garden, the vast majority of plants I have are succulents or cacti because I live in Cascais, Portugal, and it gets hot here, especially in the particular microclimate where I have the vast majority of my potted plants.
It doesn't rain too often either – and I hate watering. So basically succulents and cacti – as well as other drought-tolerant plants like bougainvillea, are what I've mostly stuck to with success.
I love the look of cacti, I just think that having a slew of them grouped together is a little boring colour-wise since they tend to only be green with some white, blue, red, and yellow if they're stressed or due to them being a special colour to begin with.
The ones I bought (at my local grocery store!) were also not all that big, which would have definitely improved the interest of the pots, but because I don't want to spend a fortune on plants, I figured I might as well buy a tonne of small cacti and wait for them to grow.
Either way, back to the fact that various potted cacti grouped together was not enough colour for me.
I started out by trying to add pops of interest colour-wise using various topdressing – mostly rocks, though I also found a bag of terracotta pieces, which looked stunning.
Lovely, but again, just not enough for me. Especially not to have every single pot with the same monotone topdressing look.
So I did some experimenting.
I came up with two techniques I loved the look of, that added visual interest and yet were super easy to do, no matter what rock you have on hand.
Here's what I call the "Popcorn" Topdressing Technique: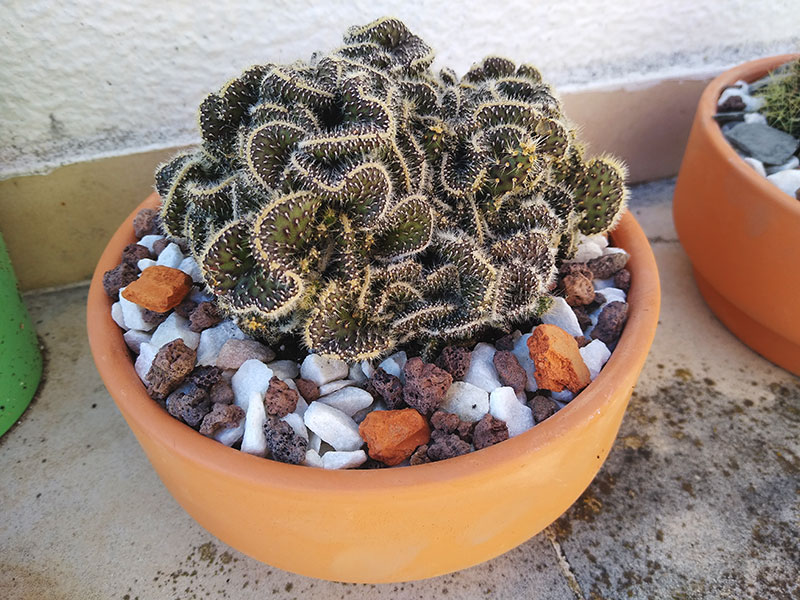 And here's what I call the "Firework" Topdressing Technique: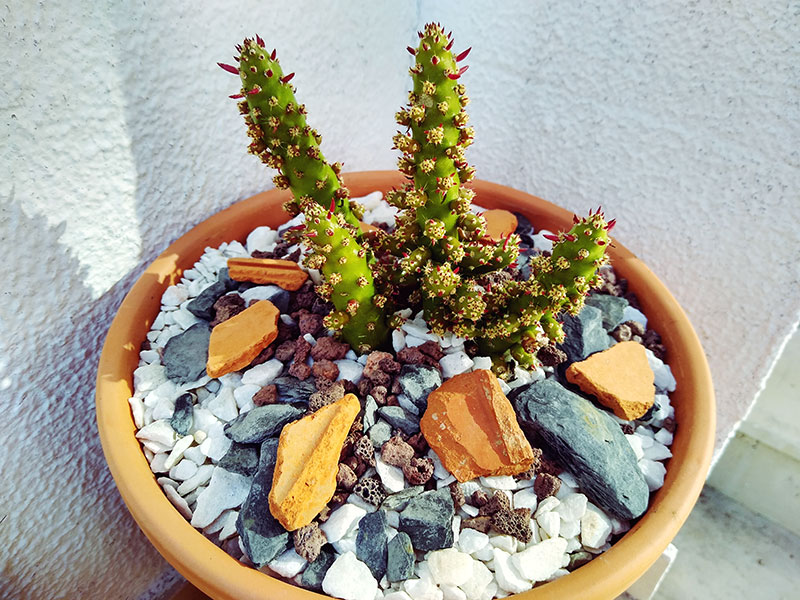 Basically, to style your topdressing using the "Popcorn" technique, you need three types of topdressing on hand, all roughly the same small size.
Take one type of topdressing and completely cover the soil at the top of the pot. Then sprinkle a secondary type of topdressing liberally, probably covering around 1/3 of the pot. Finally, finish off with a third type of topdressing, adding it as an accent colour here and there, very sparingly.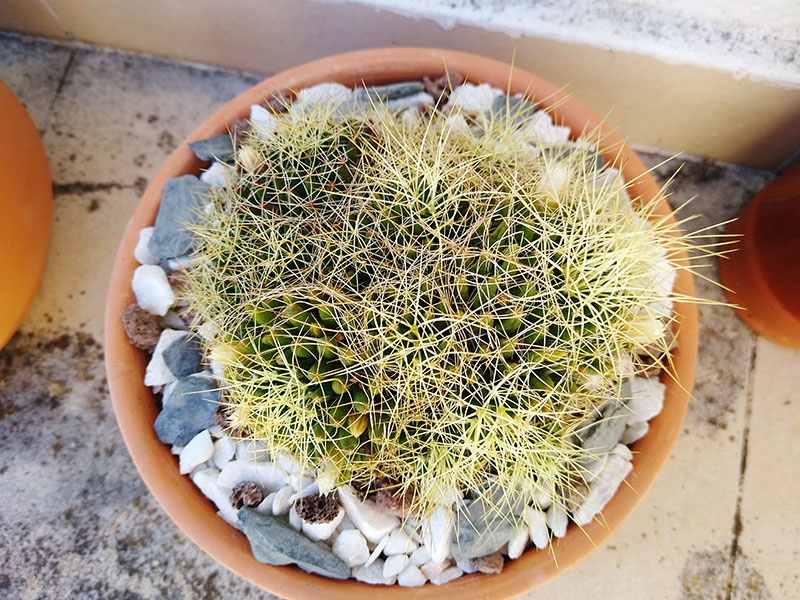 What about the "Firework" technique?
For the "Firework" topdressing technique, I used four types of topdressing, two small, two large.
I started out the same way covering the soil completely with one type of small topdressing. Then instead of sprinkling the second type of topdressing randomly, I concentrated it in a circle in the middle of the empty space around the plant.
Finally, I fished out long and narrow pieces of the large top dressing, adding them "pointing" toward the plant and to the outside of the pot, leaving space between and essentially alternating between one type and another.
The final result of the "Firework" technique is probably my favourite look, but I love the variety of using both, and having them side by side looks amazing.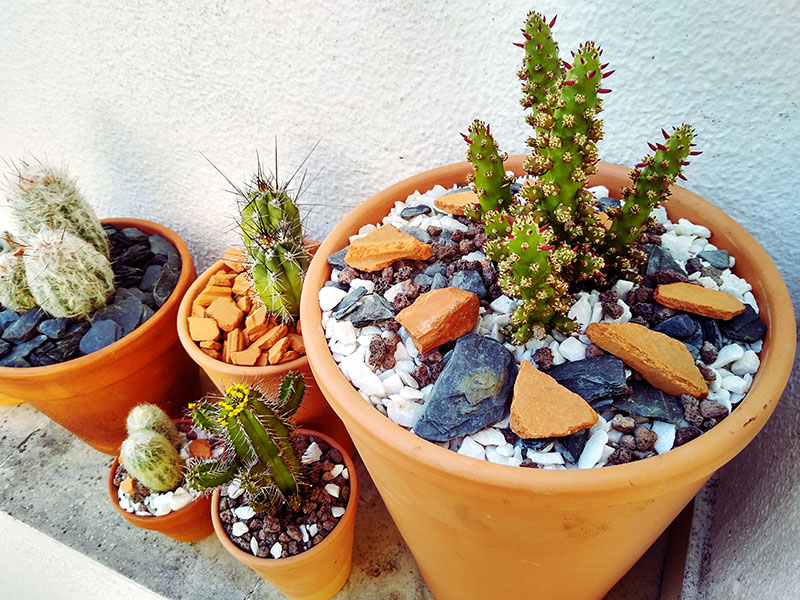 It's a way to change up the aesthetic of your top dressing manages to pull together the look of various topdressings into one, so that even if you have each plant with a different type of topdressing, all the different top dressing types come together in a number of pots, making the overall look much more cohesive.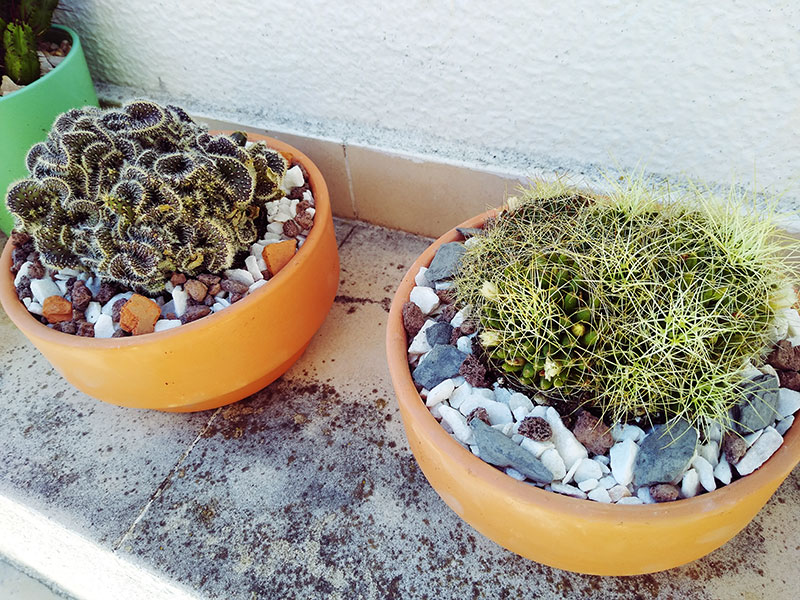 I still haven't tried this technique with a crazy number of topdressing rock styles – as I don't have access to very many. I'd love to see how it would look with other types, though!
If you try this out, let me know how it goes, and if you like one technique over another, let me know which you think is prettier.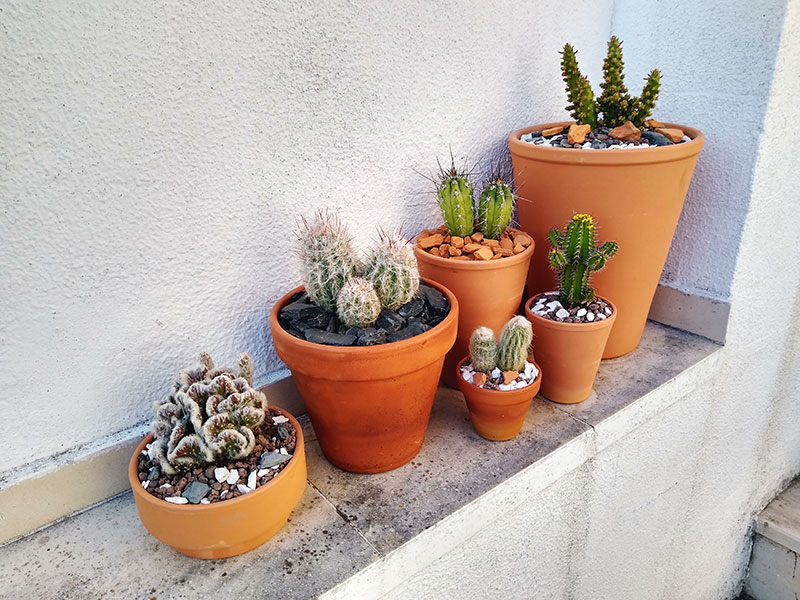 Oh – and if you can come up with more ideas for me to try in terms of sprucing up the look of topdressings, please do share! I'd love to experiment with more ideas!