If you've got a potted jade plant and are starting to think it's grown a little too top heavy to make it much longer without toppling over – or heck, if you've come back between waterings to find that your jade plant has actually fallen over (maybe with the help of a furry little feline?), chances are it's time to do something about it before you soil your carpets (plant pun obviously intended).
What can you do if you've got a top-heavy jade plant? There are basically two routes you can take, and I recommend you do at least #1. Long-term, you're going to end up in the very same situation if you go exclusively down route #2. That being said, you can fully take advantage of the situation and do both, though I'm getting a bit ahead of myself by saying this here.
The two remedies are as follows: re-potting your succulent, and pruning your succulent, and I'll talk a bit about each of these options first. Then, for those of you in special situations (for instance, you love the pot you currently have your jade in) or who want a little extra-weighted assurance, I've added a bonus round: how else you can weigh down a jade plant besides switching to a heavy pot.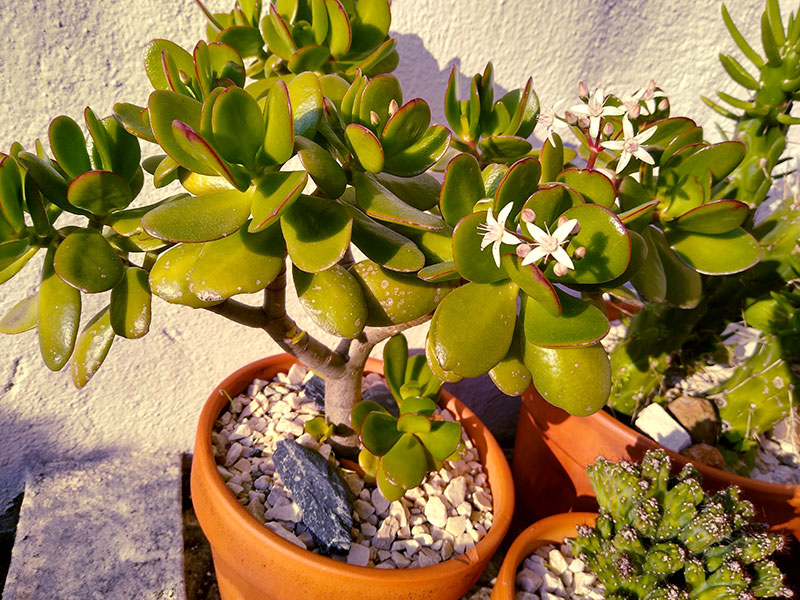 Remedy #1: Re-Pot Your Top Heavy Jade Plant Into a Much Heavier Pot
Jade naturally gets quite top-heavy as a plant. There's not much you can do about it in the long term besides make sure the pot you have a jade plant in is heavy enough to keep the plant up.
In my article where I outline the best pots for jade plants, I explain that terracotta clay pots with drainage holes are the single best plant pots for jade, as they are for every succulent.
Succulents shouldn't be over-watered, as they've adapted to take in as much water as they can when they get water since they come from climates that don't get a lot of rain. If they're over-watered, they'll continue to absorb moisture to the point where they rot. Over time, this can lead a plant past the point of no return, where you're no longer able to save it, and can lead your plant to die.
Terracotta as a pot material, so long as it's left unfinished, helps reduce the chance that any plant potted inside of it will be over-watered. The terracotta clay material wicks away moisture from the soil, and since it's exposed to the air, the moisture evaporates more quickly, allowing the soil in the pot to dry out faster.
Since terracotta clay is also a relatively heavy material, the weight of a terracotta pot is also beneficial in making sure top-heavy jade plants stay upright. In most cases, switching to a terracotta pot with a drainage hole is usually enough to keep a jade plant up long term.
Don't like the look of terracotta clay? You can use ceramic plant pots with drainage holes – those come in all sorts of shapes, colours, and with pretty designs. Like a modern, sleek, and industrial look? Cement pots with drainage fit the bill perfectly.
Love the look of a ceramic vase or an adorable ceramic mug for your jade plant? Never struggled with over-watering before? Give it a shot, especially if you have a spare cutting lying around. Should make for a pretty plant + pot combination if you're careful about the over-watering.
Or, if you prefer to be on the safe side, you can easily do what I do for my outdoor succulent makeshift plant pots – grab a hold of your husband for the evening, and get him to use his trusty drill + masonry drill bits to create a single hole in the bottom of your favourite vases and mugs, fill them with soil and plant away. For indoors, add a tea saucer or a regular old plant saucer underneath to protect what your pot's resting on top of, and be sure to empty out the runaway water that pools here after you're done watering.
If you have a trixie little cat at home who likes to swat at plants, or dogs who run past your jade plant, you might need a little extra help weighing your plant down. Check out the bonus section if this is the case.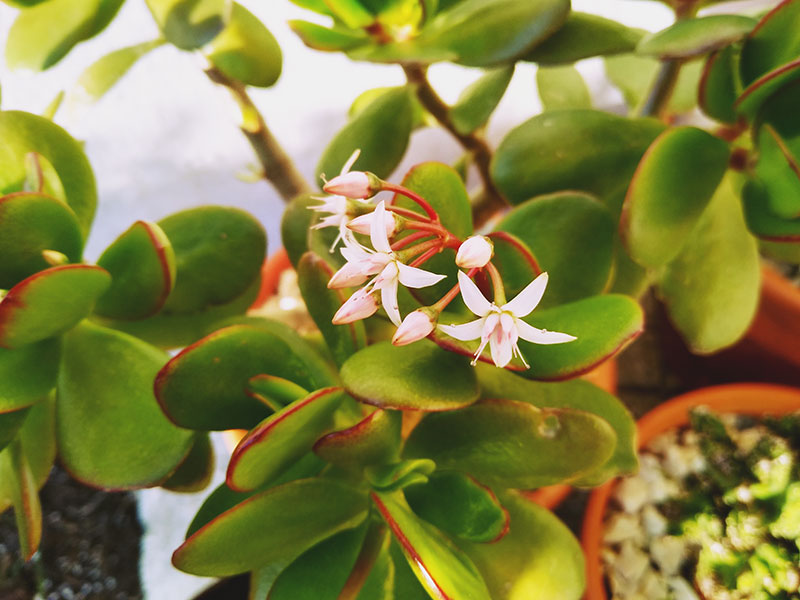 Remedy #2: Prune Your Jade Plant, Cutting It Way Back
If you don't particularly like the look of your jade plant at the moment, say because it grew in a little leggy and you'd like to give it a second chance, placing it in a better lit location, to grow in leaves that are much more dense, you might want to use remedy #2 and prune your succulent instead of re-potting it.
You might also want to prune your top-heavy jade plant if you'd like to have more jade plants, which you can easily make from the cuttings you take away after pruning. You can use these to start up multiple pots of jade to place around the house or even place these cuttings in the same pot together to have a dense looking hedge or bush-like arrangement, rather than a single tree-like plant.
You can prune jade as well if you prefer that it stay small and cute. As a heads up, if you prefer smaller plants and would love your jade to stay small over time without needing any pruning, you can shrink the size of the plant pot you place your jade in, or start off a cutting in a teeny tiny terracotta pot with a drainage hole. Jade will only grow to be as big as the size of a pot will allow, so this is the ideal long-term fix. Personally, I think having a number of teeny plant pots like these these clustered together would make for an absolutely adorable collection.
Long term, you're likely going to want to re-pot your jade unless you're happy to continue to prune it over and over, as jade will get top heavy again and again over time. But in the meantime, if you're happy to prune, your plant will do just fine without a new home.
In my experience, when it comes to pruning jade, you can feel free to go wild and do whatever you feel looks best. If you'd like new, fuller growth to appear somewhere on the plant, usually I find it's best to cut there, leaving at least two or three leaves on the stem beneath the cut. Where you trim, two new leaves should start to grow just above were you took the cutting, but I do find that sometimes if you don't leave a couple leaves on the stem, new growth appears elsewhere and not on the left-bare branch.
Jade is an incredibly really resilient plant and will pretty much take whatever you throw at it. It can take quite a lot of pruning back and cuttings have always rooted for me. To make cuttings, place all the pieces you've chopped off into dry soil, leave them be for a couple weeks, then resume watering as you had been. New roots should start rooting within the month.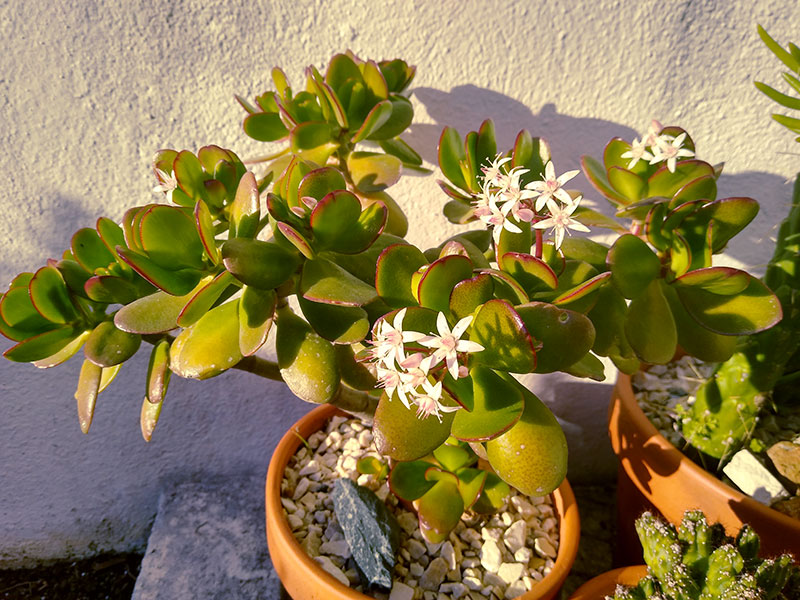 Bonus Option: Weigh Down Your Jade Plant Pot in Other Ways
There are a number of ways you can make your plant pots heavier that have nothing to do with changing the pot to a heavy alternative.
The easiest way? Add landscaping gravel rocks to the bottom of your plant pot. There's a myth that this will lead your soil to have better drainage, and while it's not true (adding rocks to the bottom of a pot doesn't increase or decrease drainage – it makes no difference to drainage at all), adding this weight goes a long way in keeping jade plants up.
Which is especially helpful if you have cats at home, especially the types who get up to no good by playfully doing things like toppling over things like water bowls. If you need more tips on cat proofing plant pots – check this article out here.
Unlike adding rocks to the bottom of your succulent's container, there is a trick that both adds weight to your pot and increases the drainage, making it much less likely you'll over-water because the potting substrate you use will dry out more quickly.
The trick is one I don't dare use for flower pots that are too big that I also want to be able to easily move around as it adds a lot of weight depending on how much of it you use. Basically, the trick is to mix concrete sand (i.e. very course sand that's not like typical beach sand which is fine) into your potting mix or – if you're planning on using a lot of sand to add a tonne of weight – with regular topsoil potting mix.
I do this when I fill the flower beds outside, getting them ready for succulents, as I don't want to add pearlite to the soil outdoors even though I need the drainage they provide me in pots. Since perlite is so light and can easily fly away when we get even a little wind, I use concrete sand mixed with topsoil roughly 50/50 proportions. I've heard of some using volcanic rock/lava rock as an alternative, but this would be much more expensive for me to do than grabbing as much concrete sand as I need, as here, concrete sand is ridiculously affordable.
If you don't need much extra weight, you can always add rocks and/or pebbles as top dressing in your jade plant's pot as well. This looks stunning and can definitely add just enough heft to make sure a pot doesn't topple over, without making it too heavy for you to be happy to pick it up and move it around when you need to.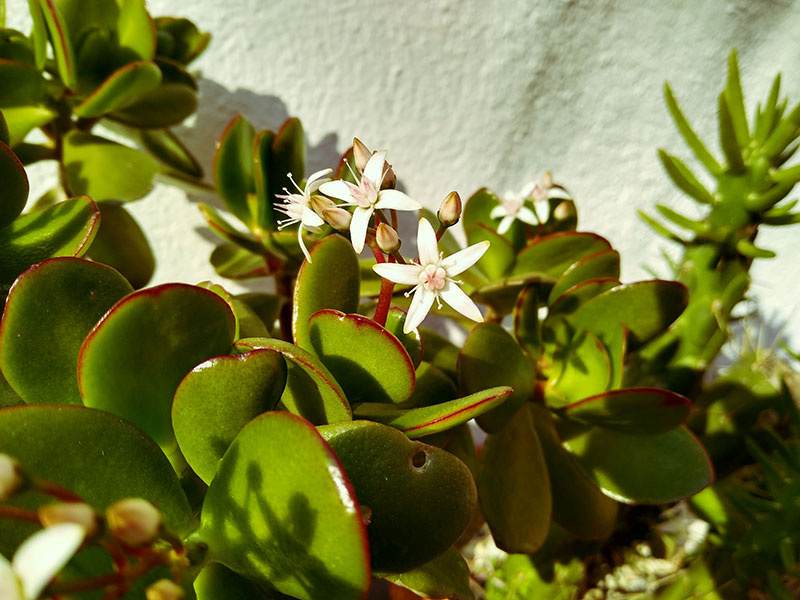 Your Thoughts on Top Heavy Jade Plants?
Have you ever had a top-heavy jade plant to deal with? Did you end up re-potting, pruning, or adding weight to your succulent's pot in other ways? Did you do a combination?
Are there any tips you have for those with top-heavy jade plants?
Do you currently have a top-heavy jade plant you'd like to prevent from toppling over? What do you think is the best fix for you to use right now? Any you plan on using in the future?
Love to hear your thoughts in the comments down below!