There are a lot of reasons you might want to quickly look up whether cacti are poisonous. Off the top of my head, here are a few really good ones:
You could be doing a quick search because you pricked yourself with a cactus spine, and while you were able to remove the spine successfully (or at least it looks like you have) your finger still hurts a bit in the spot you were pricked.
You're wondering if there's potentially poison in the cactus spines themselves.
You're thinking of getting a houseplant, and would love some sort of cactus because you adore cacti.
You have a pet, however, and are wondering whether cactus plants are all in any way toxic for your furry friends to ingest.
You know, just on the off chance your feline or canine becomes tempted enough to take a bite one day when you're out at work and therefore unable to take him or her to the vet straight away.
You're wondering if – were you to be lost in a survival situation, stuck in the middle of a desert with no bodies of water visibly around – you could potentially eat and/or drink a cactus to stay hydrated.
If cacti are poisonous/toxic for humans to ingest, that option would obviously be off the table.
You're really curious about which cacti – if there are any – are genuinely poisonous and not just dangerous in terms of being able to prick humans and animals and hurt them if they touch or get caught in their spines.
I'll start off by saying – it seems to me, there are less cacti that are poisonous than you might think, especially if you thought all or most cactus plants contain poison. That's definitely not true.
But let's talk about whether you can eat cacti, or drink cactus "juice" in order to stay fed & hydrated if you ever found yourself in a survival situation in a desert, whether cacti have poison in their spines (also called "cactus thorns" or "cactus needles"), then we'll get into which cacti out of the many that exist are poisonous.
For those of you who are looking for cacti to have as houseplants, but are worried about those houseplants being toxic to pets you have at home, I've also included a section on cacti that are non-toxic to cats and dogs.
Can You Eat Cactus, or Drink Cactus "Juice" to Survive in the Desert?
While there are a select few cacti that have fruit and actual cactus pads that are edible (here's what they taste like in case you're curious), most cacti are absolutely not edible in any way, shape or form.
The one that is edible – pads and fruit and all – that's pretty common and easy to spot if you're happy to learn to identify it: the Prickly Pear Cactus & Prickly Pear Cactus Fruit.
You definitely have to do a lot of work in terms of prepping the pads to be eaten (here's a video guide in case you're interested), but if you spot this bad boy in the desert, you're solid if you can prep the pads of one of these to be eaten, especially since they usually get to be quite large.
What about all the other cacti?
Well it turns out that common advice about cutting open a cactus and drinking the juice to stay hydrated is a huge no-no, as Melissa Petruzzello for Britannica points out:
Water is truly a precious resource in a desert, so, in addition to their intimidating spines, most cactus species further protect their spongy flesh with acids and potent alkaloids. These chemicals are usually too acrid for most humans to tolerate and are taxing on the kidneys if ingested. The flesh of some cactus species can also cause vomiting, diarrhea, or temporary paralysis—none of which is conducive to your survival in an emergency situation.
So even without poison, there's no way you should take it upon yourself to ingest cacti as a form of sustaining yourself – whether because you're hungry or thirsty in a desert survival situation.
Why? Cacti typically have acidic flesh, and their flesh also has alkaloids sometimes – chemicals too taxing for human beings to filter through their kidneys if they're ingested.
If you eat the wrong cactus, you'll vomit, have diarrhea, even temporary paralysis.
Definitely not anything you want if you're stuck in the desert without many options.
The same article continues to point out the exceptions to this rule of not eating or drinking cactus flesh in desperate situations:
The notable exceptions to this rule are the prickly pear and one species of barrel cactus, the fishhook barrel (Ferocactus wislizeni). While both of these plants are fairly unpleasant to eat raw, they have less-concentrated levels of the detrimental chemicals and could give you a bit of hydration in a pinch. Cactus fruits are a better bet, though many are also unpalatable if eaten raw.
So it's Prickly Pear (as I've mentioned) and fishhook barrel cactus (which in my opinion is much harder to identify).
And you can eat cactus fruits. But otherwise, hard pass on the cacti for survival.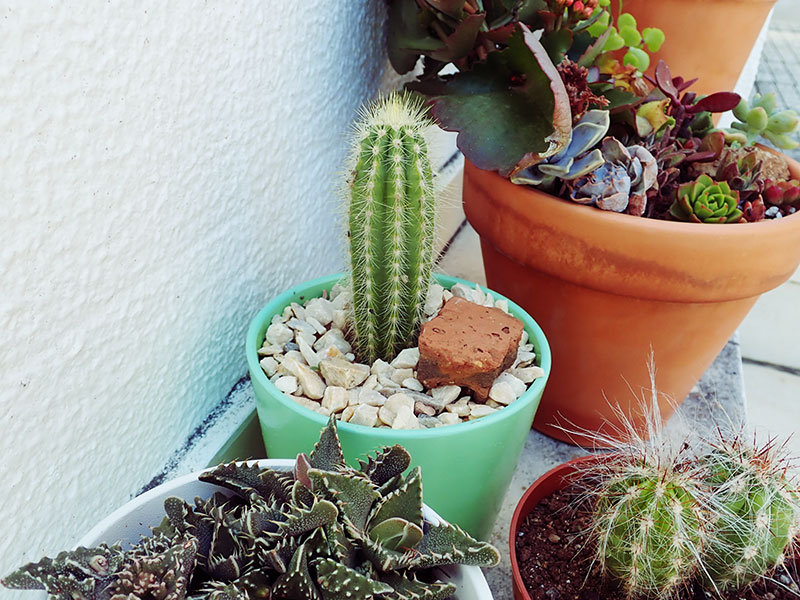 Is There Poison in Cactus Spines?
While there isn't poison in cactus spines, the prick of a cactus needle can feel quite terrible, even after you've managed to remove it.
This can easily lead you to believe there's some sort of toxic or irritating substance in a cactus spine that makes a puncture from one hurt for so long, even after the spine has been removed.
The reason behind the pain, however, comes down to the structure of the needles themselves.
Scientists studying puncture performance of cactus spines learned a lot about why the pain feels so intense (by the way – trigger warning – this is potentially quite uncomfortable to read and visualize):
"In order to puncture effectively, the cholla spine has to be able to penetrate the target very easily, so that just a slight brushing is all it takes," Anderson said. "At the same time, it has to be really hard to remove."

In porcupine quills and barbed cactus spines, the barbs act like little sharpened blades that concentrate the stress and cause the animal tissue to fracture more easily, Anderson said.

"Then the barbs catch on your muscle fibers, making it difficult to remove them," he said.

The researchers detected reliable differences in performance between the cactus species. For example, O. polyacantha "required significantly more work to withdraw from the chicken than any other species," the team found. Cholla spines were significantly more difficult to withdraw from pig tissue. In fact, a single cholla spine could hoist a half-pound hunk of pork up by its skin.

The cringe-worthy findings went further. Barbed spines removed from chicken breast ended up with a coating of animal tissue, the team found. Barbed spines in pig flesh came out clean, but missing some of their barbs. Those, presumably, remained in the flesh.
So in the cholla cactus they were studying, very little touch, just a slight brushing, was all it took for the cactus spines to puncture effectively.
At that point, like in porcupine quills, the spines act like teeny tiny little knife blades that catch on muscle fibers and cause tissue fracture easily.
Certain cacti were better at getting wedged into flesh than others; Prickly Pear cactus, for example, was a lot harder to remove than other species of cacti.
And I'll quote this bit again: "A single cholla spine could hoist a half-pound hunk of pork up by its skin."
Horrifying enough? Nope, there's one part that's even worse to think about and that's the part that talks about what happens when you remove the cactus spines from the animal tissue…
In some animal tissue, like chicken breast, the cactus spines came out with a coating of the tissue itself (i.e. it pulled off some of the flesh along with the spine coming out).
In other animal tissue, like pig meat, the cactus spines came out clean, but missing some barbs.
The researchers suggested: "Those, presumably, remained in the flesh."
Um so yeah. Gruesome to think about, but the reason your fingers may still hurt even after you've successfully taken out a cactus spine: the little cuts the spines leave when they enter your flesh, the spines maybe pulling out some of your flesh on their way out, and/or – there still may be barbs from the spine lodged in your skin.
Harmful? Probably not. But painful? Definitely. Oh, and totally gross.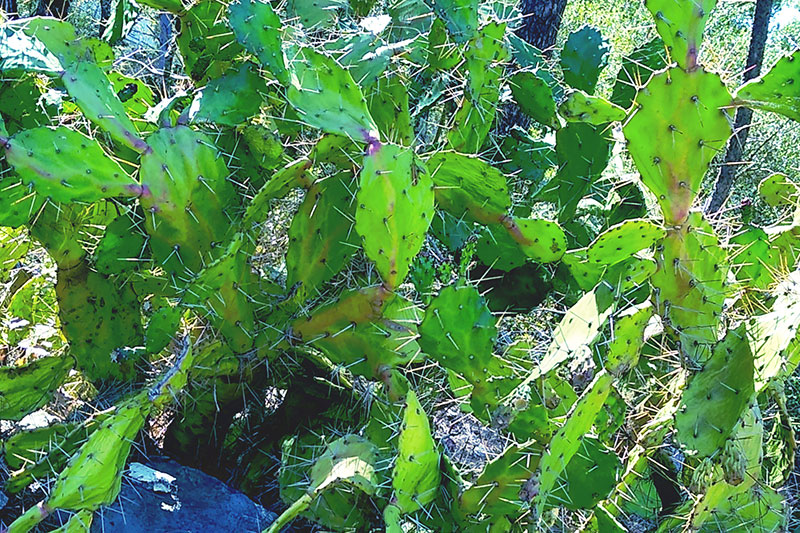 What Are Some Poisonous Cacti?
In terms of cacti that are poisonous, there are some, though they do appear to be rare.
Let's start with the poisonous non-cacti that do quite a good job at looking and seeming like cacti, however. As these are way more common than any poisonous cactus.
The Poisonous Cactus Look-Alikes: Euphorbias
All euphorbia, many of which look as though they're cacti have a milky-white sap inside of them that's poisonous if consumed, and is a skin-irritant, as well as being dangerous if rubbed into your eye.
These plants are technically not cacti, though visually they look a lot like cacti, they're colloquially often called cacti, and they sometimes even have the word "cactus" in their common names (ex: Pencil Cactus which is scientifically known as a euphorbia tirucalli).
You should definitely not have euphorbia around children or pets, and seeing as how many euphorbia look as though they're cacti, you should double check to make sure any plants you have in and around your home that you believe to be cacti are not euphorbia if you're worried about the safety of family members or pets that may play with or even try to ingest plants.
The white sap will ooze from any part of the plant that's cut. The slightest wound – meaning it really doesn't take much to ooze out – will lead the euphorbia sap to seep out and if touched or ingested, this sap can lead to incredibly painful inflammation.
In contact with mucous membranes (eyes, nose, mouth), the latex [euphorbia sap] can produce extremely painful inflammation. Therefore, spurges should be handled with caution and kept away from children and pets. Latex on skin should be washed off immediately and thoroughly. Congealed latex is insoluble in water, but can be removed with an emulsifier such as milk or soap. A physician should be consulted if inflammation occurs, as severe eye damage including permanent blindness may result from exposure to the sap. When large succulent spurges in a greenhouse are cut, vapours can cause irritation to the eyes and throat several metres away. Precautions, including sufficient ventilation, are required.
Bolding added.
Again, to reiterate, this is really terrible stuff to get into your eye, skin, to ingest, basically anywhere on you – not a good idea.
So please make sure if you do have a cactus in or around your home and have pets or kids that it isn't a euphorbia.
Actual Cactus Species That Are Poisonous
Lophophora williamsii otherwise known as peyote catus has psychoactive properties, and can be poisonous.
Other than that, I've heard that some forms of barrel cacti are toxic if you try to ingest the water that comes from them, at the same time I can't find any reputable sources that say this concretely.
If you know anything about cactus species that are poisonous or toxic, do let me know in the comments down below.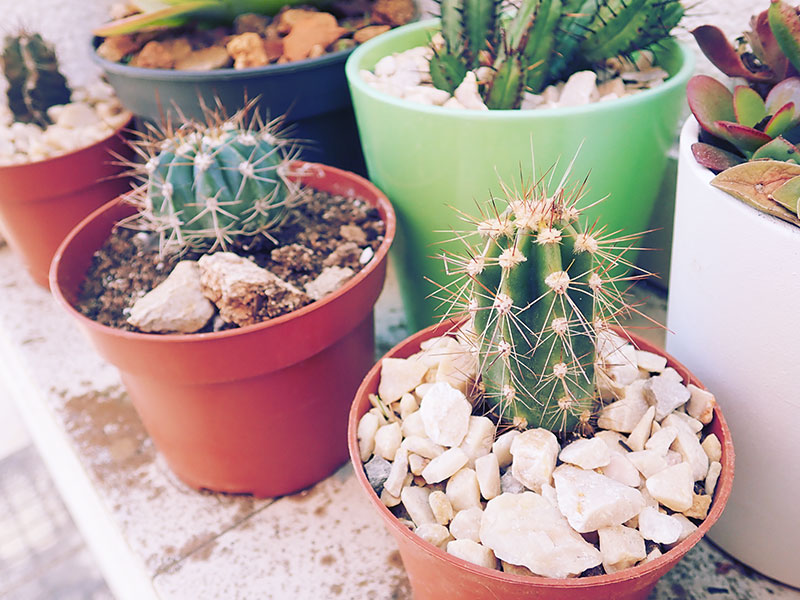 Which Common Cacti Are Non-Toxic to Pets (Cats & Dogs)?
Since most true cacti (and not just euphorbia that look like cacti) are not poisonous, it seems if you're looking for a viable non-toxic plant for pets like cats and dogs to cohabit with, there are many options.
Obviously, there might be issues with cactus spines if your pet tries to poke or prod at one, but if you don't think that will be an issue and are just concerned about toxicity, here are a few viable non-toxic to cats, dogs, (and horses!) options:
Besides these, there should be plenty more cacti that are good options, so if you like one, just do a quick Google check to make sure it's non-toxic to pets and you'll be good to go.
To fellow pet parents who love houseplants and thus find themselves in this camp, there are ways of pet-proofing your house plants you might not have thought about before – preventing quite a lot of potential issues.
Pets often topple over plant pots, get their paws into soil and make big messes, knock over pots when they're playing around them all on top of sometimes attempting to take a nibble out of plants you may not want them biting on.
If you'd like to learn about a slew of different ways you can pet proof house plants I'd recommend checking out this article on my cat blog, KittyClysm – Houseplant Protection: Cat Proof Planters, Pots, Shelves, & More.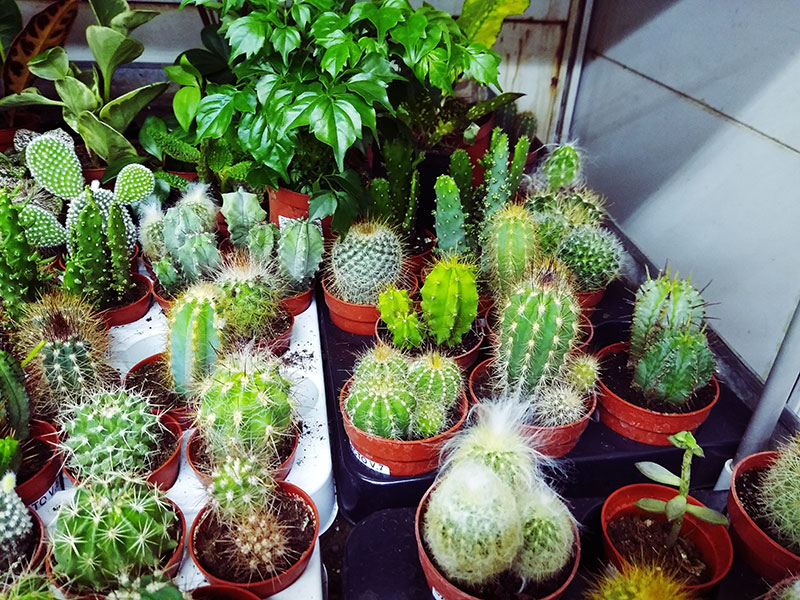 Your Thoughts on Poisonous Cacti?
Did you know most cacti are not poisonous? Did you realize euphorbia were poisonous and did you know that they weren't actually cacti – even though a lot of them even have the word "cactus" in their common names?
Did you think there was poison in cactus spines or did you guess they might hurt so much (even after they're taken out!) for a different reason?
Did you find the description of the study they did on cactus spine punctures gruesome, or just plain accurate in terms of what you'd already guessed?
Were you looking for a non-toxic cactus to have as a house plant even if you have pets?
Were you curious about cactus poison from another perspective?
Would love to read about all your thoughts on this topic in the comments down below!